ROBOTIC MACHINE TENDING
We specialize in robotic Machine Tending solutions. This applies to CNC machines, cold/hot forging presses and sheet metal handling.
CNC Machine Tending
CNC Machine tending is economical if a robot services 2 to 3 turning centres or a combination of CNC's and VMC's.  Robotic systems are also more flexible when compared to stand-alone autoloaders and gantry systems.
We provide system integration for robotic cells with the following,
In-feed & out-feed systems such as slat chain conveyors, rotary tables, slide tables, belt conveyors & bin feeders

Vision based Bin picking systems

Re-grip/flip stations, orientation fixtures & intermediate inspection stations

Auto Door option for machine

Safety systems with interlocking gates

Complete interfacing with CNC machines.

Multi-gauging/Measurement systems with auto offset correction

Secondary operations such as deburring can be included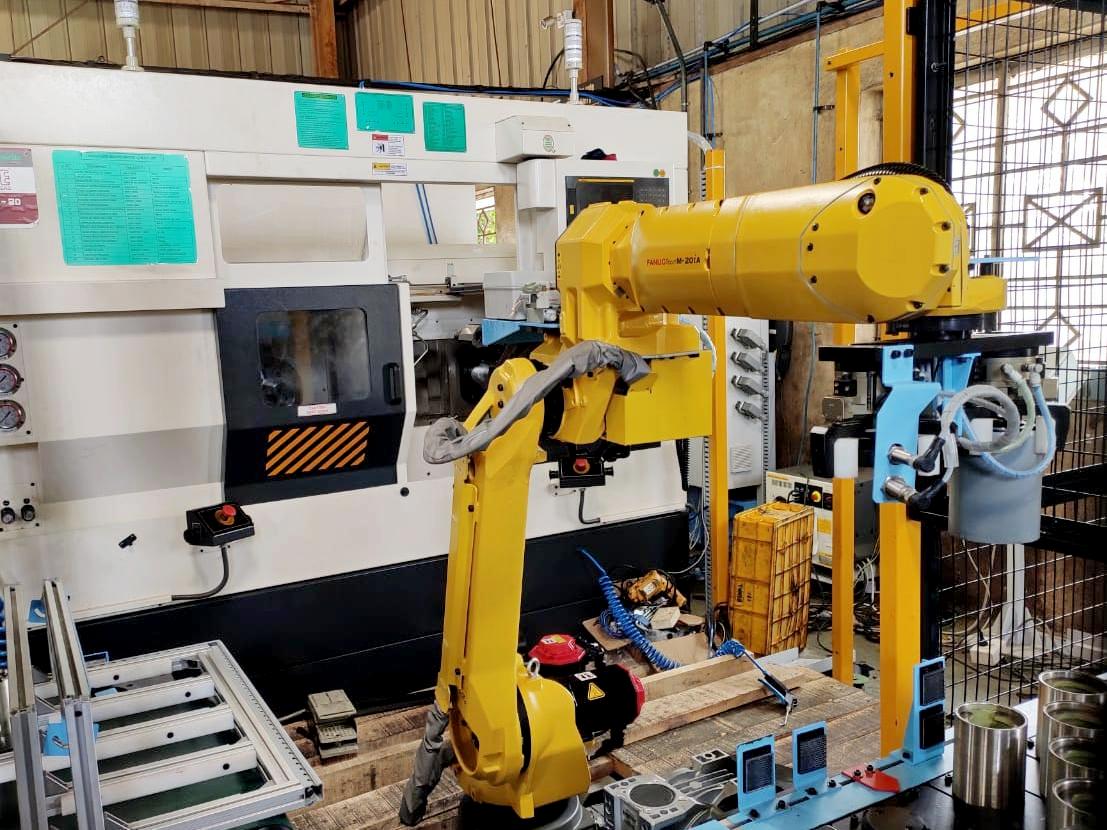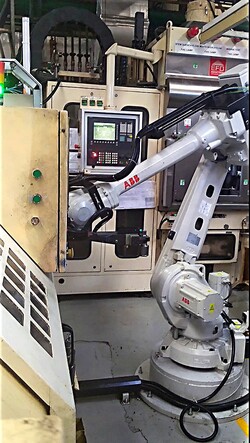 For components which have a machining cycle time of above 1minute, a single robot can serve 3 spindles. This is very efficient way of utilizing both the robot and the CNC machine. The machining process has to be stable and the manual intervention for offset corrections and insert changes has to be minimal to achieve maximum productivity.
Two or three robotic cells can be manned by a single operator. Robots are also very user friendly and easily reprogrammable. Programming and understanding robots is much easier compared to CNC programming. Robots are very reliable. With proper selection and maintenance, their life can be very long and easily be on par with that of a CNC Machine. Our solutions are seamlessly integrated with the CNC machines. The machine controller is interfaced to our PLC. The signal exchange is through hardwiring or communication protocols.
If the component machining times are 2-3 minutes or more, the robot can be better utilized to serve up to 4 machines by moving the robot on a 7th axis track.
Typically the following machines can be serviced by robots CNC, VMC, HMC, VTL, Gear Hobbing machines and Induction hardening machines
Injection Moulding Machine tending (IMM)
Injection moulding machines have very quick cycle times, requiring frequent loading and unloading. Robots are ideally suited for this application. They provide a noticeable improvement in productivity and machine uptime. If the cycle times are longer, Two machines can be serviced by One robot, thus providing quicker ROI.
We provide complete turnkey solutions for IMM tending applications.
Finished component removal

Automated feeding and placement of inserts.

Part in feed solutions such and vibratory feeders and escapement systems

Floor mounted or machine mounted robots

Other secondary operations such as trimming, deburring and inspection.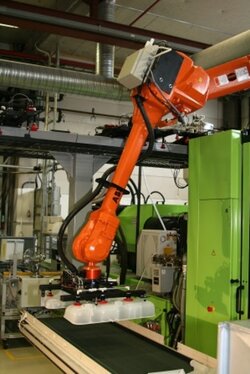 Pressure Die Casting Machine Tending (PDC)
Several industries such as automotive, lighting, household appliances and pharmaceutical equipments use aluminium PDC components. In the die casting industry, robots can be used in the following areas
PDC extraction

Die Spraying

Insert placement

Secondary operations such as gate presence checking, quenching 

and trimming.
Operator fatigue and injury associated with the high heat environment and the smoke inhalation can be avoided by deploying robots. Typical cycle times of 6 -7 seconds can be achieved for extraction. Based on the machine cycle time which is around 45s, the robot can be utilized for quenching, trimming press loading and in some cases for runner and riser cutting using a cut off saw.
Since the robot consistently unloads in around 6-7 seconds, a significant productivity improvement is registered. Energy costs are reduced as the machine idle time is reduced. The peripheral equipments such as the holding furnace and the melting furnace have to operate for less time producing more components. These are some of the indirect cost savings while deploying robots.
Forging Presses – Hot Forging
Forging presses have very short cycle times, usually less than 5 seconds. Loading presses can be a tiresome operation for the operator. Robots can be deployed to pick up the hot billets from the induction furnace and load to the 1st stage (forming). As required, the same robot can be utilized to transfer to the subsequent stages of forming and trimming. 2 or 3 stage presses require multiple handling and precision loading. 2 operators are required to work in tandem. This poses a huge risk while handling red hot billets.  Die spraying tasks can also be automated.
For individual smaller presses, the component needs to be transferred from one press to another to complete the operation. The critical factor is time. All operations need to be completed within a certain time so that the component temperature is maintained before the final shape is attained. 2-3 operators are required to work in close proximity and this multiple presses and the risk posed due to the hot components is very high.
Operator fatigue due to noise, vibration, temperature and smoke inhalation

Risk of injury due to hot component handling

2 or 3 operators are required to work in close proximity while handling hot billets.

Rejections and inconsistency due to temperature loss. Material property changes and component quality may be compromised.

Productivity loss due to repetitive and tiresome nature of work

Operator rotation/relief requirement to reduce absenteeism
Installation of Robots can help by eliminate the above fatigue and risk factors associated with press loading. Foundry grade robots can be used along with heat shields to prolong the life of the robots.
Forging Presses – Cold Forging
Cold forging presses have a similar requirement. We can offer complete turnkey solutions for unmanned operation of cold forging presses. The accessories include
Bulk load billet feeders

Step and elevator feeders with orientation sensing

Gravity load feeders
Typically robot fed presses has a 30% higher productivity compared to manually loaded presses.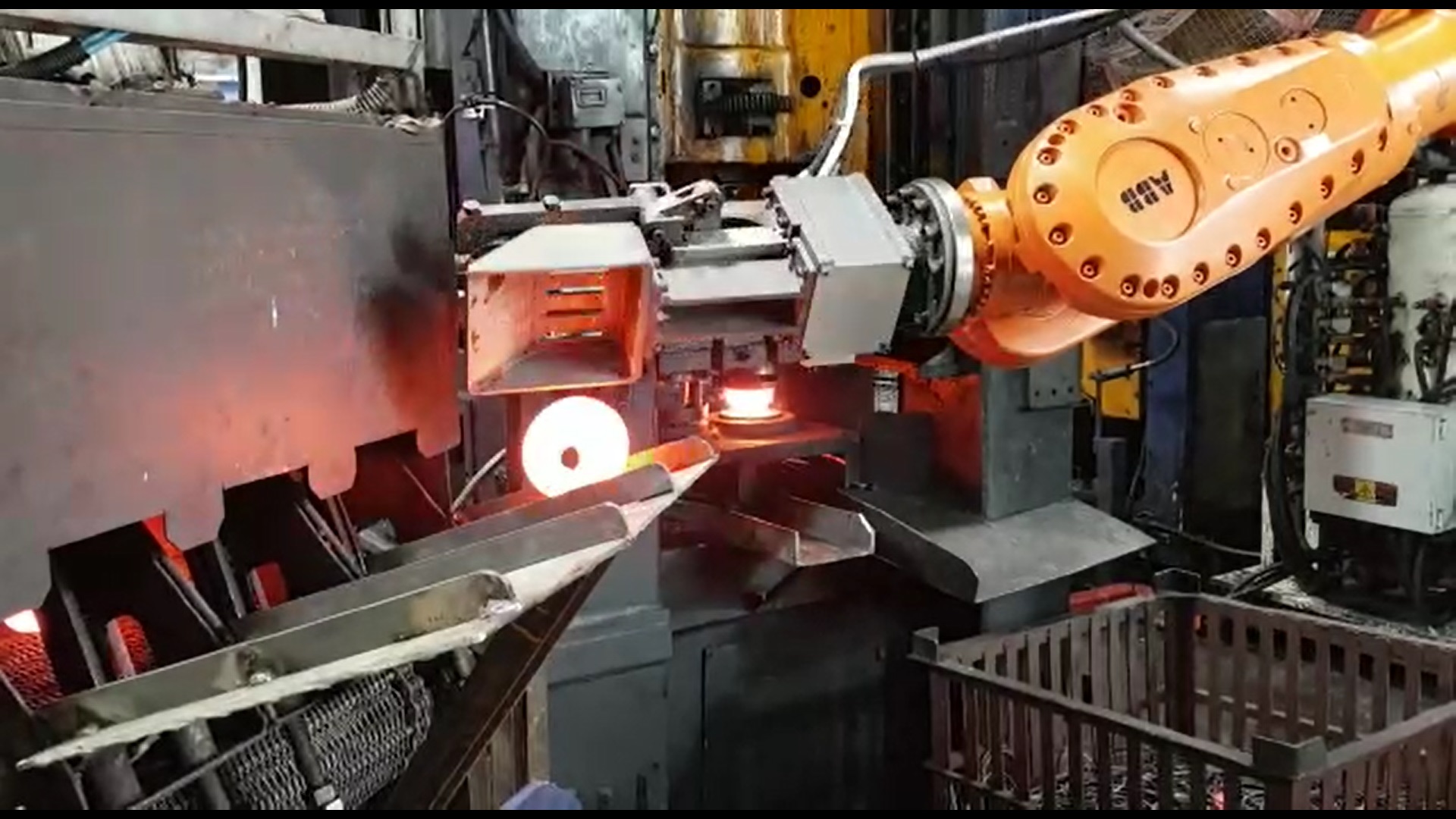 Get in Touch
Sustainable Automation Solutions