SAFETY IN ROBOTIC SYSTEMS
Safety engineering is an Integral part of robotic systems. Robotic cells are frequently accessed by programmers, operators and maintenance personnel. Accidents and injuries are bound to happen if the required safety systems are not implemented. All our solutions are engineered with full safety compliance. One or more of the following safety precautions are included in all our cells.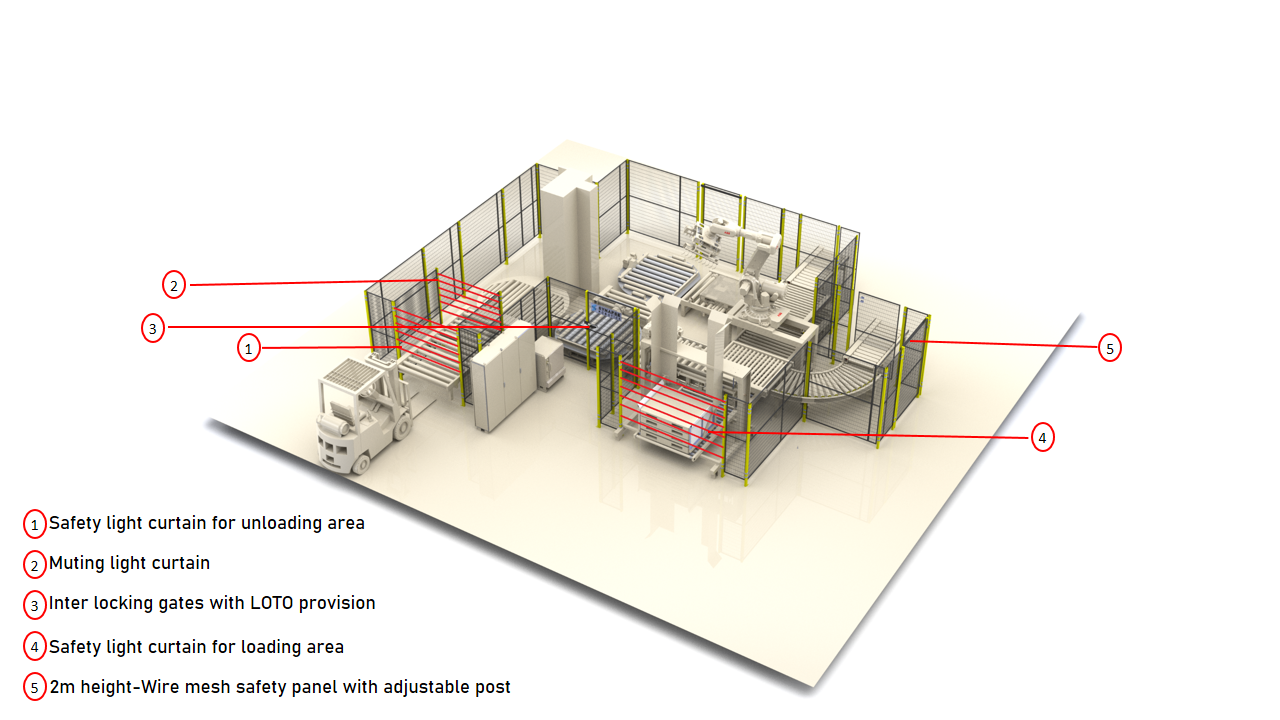 All points of ingress to the cell are restricted by safety fencing
For maintenance and teaching access, gates with Interlocking switches and provision for lockout.
Lockout provision for disconnects as well as pneumatic supply
Platforms for teaching and maintenance access will also have lockout provisions
In areas where trolley needs to be docked for material exchange or pallets need to be removed by fork trucks, light curtains and or safety mats need to be provided.
For conveyor systems where filled pallets are transferred out of the cell, light curtains with muting options are required to prevent operator entry.
For material handling cells where the operators load and unload components the operator load point should be isolated from the robot by means of conveyors, slide tables or turn tables.
For fettling and deburring cells where there is a chance of debris flying of the tools, complete sheet metal enclosures may be required. Roll up curtains are also used to safeguard the operator load stations
Robot movement can also be restricted by using hard stops
For certain applications where frequent operator intervention or co-working is required, cobots can be deployed or area scanners can be used to slow/stop the robot.
Pull chord switches may be used for conveyors where there is chance of operator injury.
All our systems come standard with safety relays for both E-Stop circuit and perimeter guarding. For certain solutions safety PLC's are mandatory.
We provide the basic safety training to all personnel at the time of commissioning. We also notify the safety procedures to be followed while operating and maintaining the cell. We also recommend that the provided lockout procedures are followed prior to cell entry.
If required, third party safety audits by Pilz or Schmersal can be provided at additional cost.
Get in Touch
Sustainable Automation Solutions