ROBOTIC MACHINE TENDING
We specialize in robotic Machine Tending solutions. This applies to CNC machines, cold/hot forging presses and sheet metal handling.
CNC Machine Tending
CNC Machine tending is economical if a robot services 2 to 3 turning centres or a combination of CNC's and VMC's.  Robotic systems are also more flexible when compared to stand-alone autoloaders and gantry systems.
We provide system integration for robotic cells with the following,
In-feed & out-feed systems such as slat chain conveyors, rotary tables, slide tables, belt conveyors & bin feeders

Vision based Bin picking systems

Re-grip/flip stations, orientation fixtures & intermediate inspection stations

Auto Door option for machine

Safety systems with interlocking gates

Complete interfacing with CNC machines.

Multi-gauging/Measurement systems with auto offset correction

Secondary operations such as deburring can be included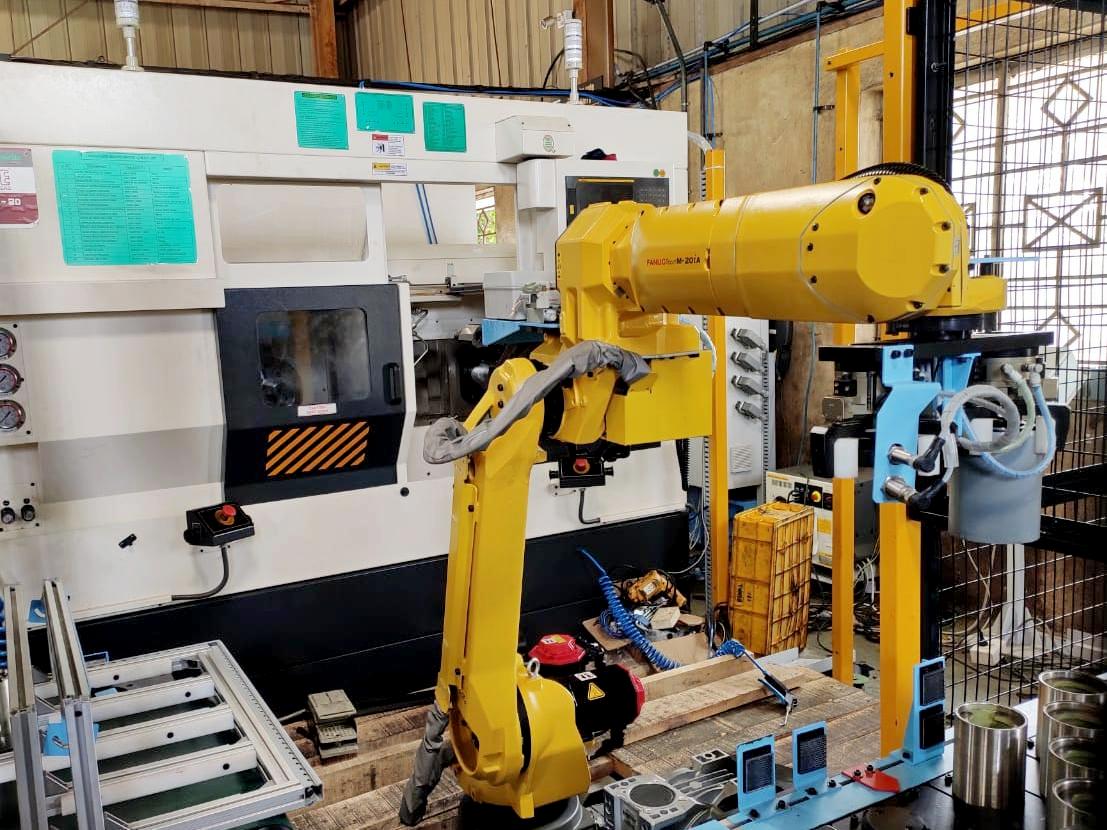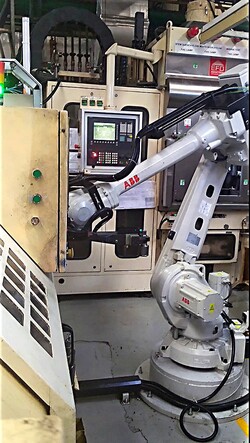 For components which have a machining cycle time of above 1minute, a single robot can serve 3 spindles. This is very efficient way of utilizing both the robot and the CNC machine. The machining process has to be stable and the manual intervention for offset corrections and insert changes has to be minimal to achieve maximum productivity.
Two or three robotic cells can be manned by a single operator. Robots are also very user friendly and easily reprogrammable. Programming and understanding robots is much easier compared to CNC programming. Robots are very reliable. With proper selection and maintenance, their life can be very long and easily be on par with that of a CNC Machine. Our solutions are seamlessly integrated with the CNC machines. The machine controller is interfaced to our PLC. The signal exchange is through hardwiring or communication protocols.
If the component machining times are 2-3 minutes or more, the robot can be better utilized to serve up to 4 machines by moving the robot on a 7th axis track.
Typically the following machines can be serviced by robots CNC, VMC, HMC, VTL, Gear Hobbing machines and Induction hardening machines
Injection Moulding Machine tending (IMM)
Injection moulding machines have very quick cycle times, requiring frequent loading and unloading. Robots are ideally suited for this application. They provide a noticeable improvement in productivity and machine uptime. If the cycle times are longer, Two machines can be serviced by One robot, thus providing quicker ROI.
We provide complete turnkey solutions for IMM tending applications.
Finished component removal

Automated feeding and placement of inserts.

Part in feed solutions such and vibratory feeders and escapement systems

Floor mounted or machine mounted robots

Other secondary operations such as trimming, deburring and inspection.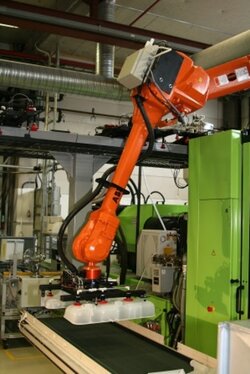 Pressure Die Casting Machine Tending (PDC)
Several industries such as automotive, lighting, household appliances and pharmaceutical equipments use aluminium PDC components. In the die casting industry, robots can be used in the following areas
PDC extraction

Die Spraying

Insert placement

Secondary operations such as gate presence checking, quenching 

and trimming.
Operator fatigue and injury associated with the high heat environment and the smoke inhalation can be avoided by deploying robots. Typical cycle times of 6 -7 seconds can be achieved for extraction. Based on the machine cycle time which is around 45s, the robot can be utilized for quenching, trimming press loading and in some cases for runner and riser cutting using a cut off saw.
Since the robot consistently unloads in around 6-7 seconds, a significant productivity improvement is registered. Energy costs are reduced as the machine idle time is reduced. The peripheral equipments such as the holding furnace and the melting furnace have to operate for less time producing more components. These are some of the indirect cost savings while deploying robots.
Forging Presses – Hot Forging
Forging presses have very short cycle times, usually less than 5 seconds. Loading presses can be a tiresome operation for the operator. Robots can be deployed to pick up the hot billets from the induction furnace and load to the 1st stage (forming). As required, the same robot can be utilized to transfer to the subsequent stages of forming and trimming. 2 or 3 stage presses require multiple handling and precision loading. 2 operators are required to work in tandem. This poses a huge risk while handling red hot billets.  Die spraying tasks can also be automated.
For individual smaller presses, the component needs to be transferred from one press to another to complete the operation. The critical factor is time. All operations need to be completed within a certain time so that the component temperature is maintained before the final shape is attained. 2-3 operators are required to work in close proximity and this multiple presses and the risk posed due to the hot components is very high.
Operator fatigue due to noise, vibration, temperature and smoke inhalation

Risk of injury due to hot component handling

2 or 3 operators are required to work in close proximity while handling hot billets.

Rejections and inconsistency due to temperature loss. Material property changes and component quality may be compromised.

Productivity loss due to repetitive and tiresome nature of work

Operator rotation/relief requirement to reduce absenteeism
Installation of Robots can help by eliminate the above fatigue and risk factors associated with press loading. Foundry grade robots can be used along with heat shields to prolong the life of the robots.
Forging Presses – Cold Forging
Cold forging presses have a similar requirement. We can offer complete turnkey solutions for unmanned operation of cold forging presses. The accessories include
Bulk load billet feeders

Step and elevator feeders with orientation sensing

Gravity load feeders
Typically robot fed presses has a 30% higher productivity compared to manually loaded presses.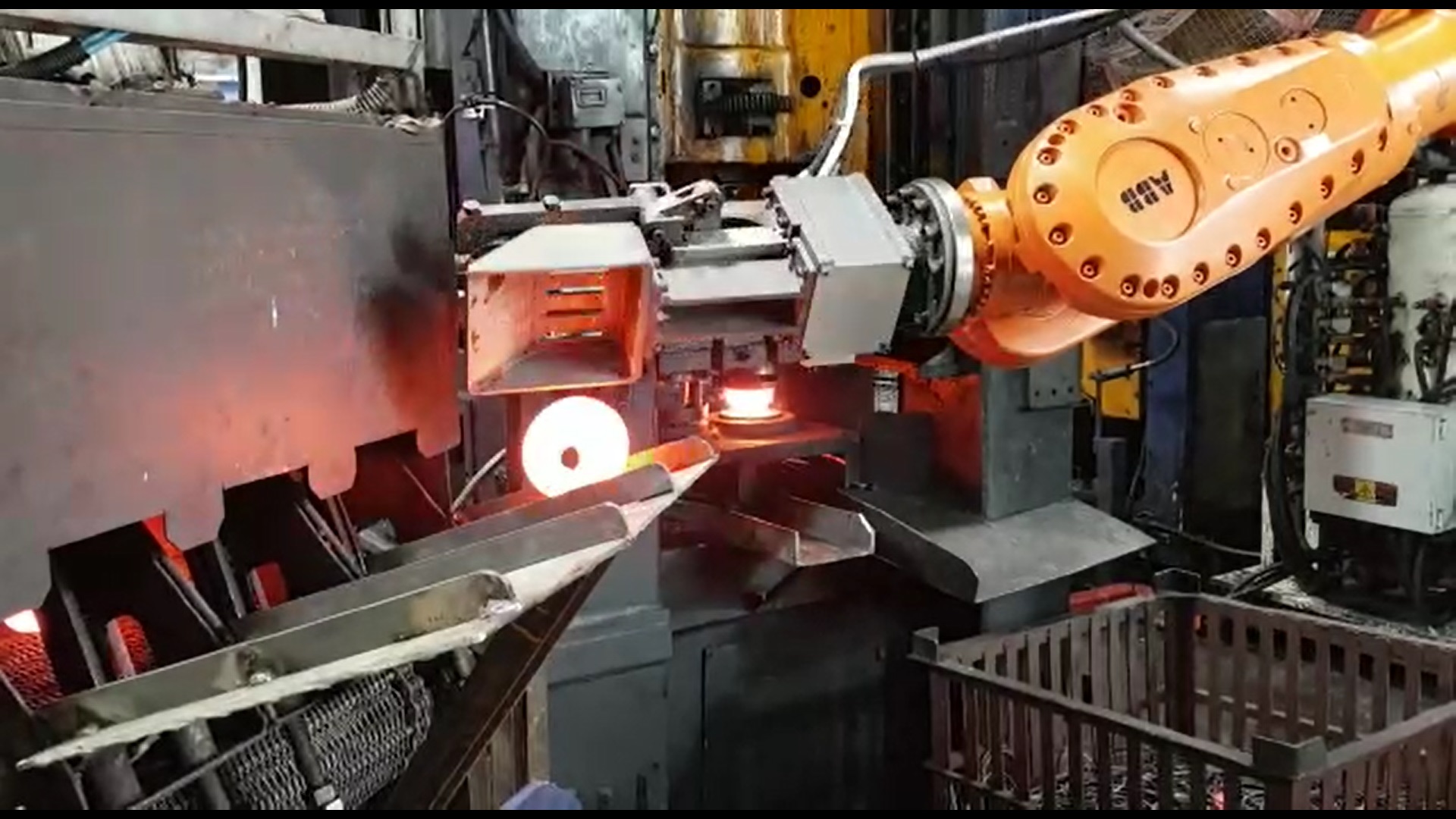 To create superior value for our customers by delivering, reliable, safe, ergonomic, cost effective and aesthetically pleasing automation solutions.
VISION
Be the most dynamic automation company that provides Advanced Technology Products.
Mission
To create superior value for our customers by delivering, reliable, safe, ergonomic, cost effective and aesthetically pleasing automation solutions.
Core Values
Synapse operates with three integral core values – Innovation, Excellence and Integrity. All our solutions are embedded with these values. Our employees are also very passionate about our core values and their actions reflect the values.

INNOVATION
We live to innovate. We continuously aspire to develop new products and solutions. We embrace the latest technologies and apply them to solutions offered to our customers. Continuous learning is a way of life at Synapse.

EXCELLENCE
We strive to provide the most reliable solutions for our customers. Our team is instilled with a no compromise quality philosophy.

INTEGRITY
At Synapse, we believe in long term partnerships with our customers and suppliers. Therefore, we conduct business in a fair and transparent manner.
Our Philosophy
Ultimate customer satisfaction is our top priority. We will work tirelessly to satisfy our customers and close out projects. We are here for the long run, looking to establish long term partnerships with our customers.
STRENGTH
We are an innovative company. Our out of the box ideas, combined with a very strong mechanical and controls team helps us deliver reliable, safe and optimal solutions. We also have experienced technicians for fabrication and assembly. We follow this up with timely execution and after sales support.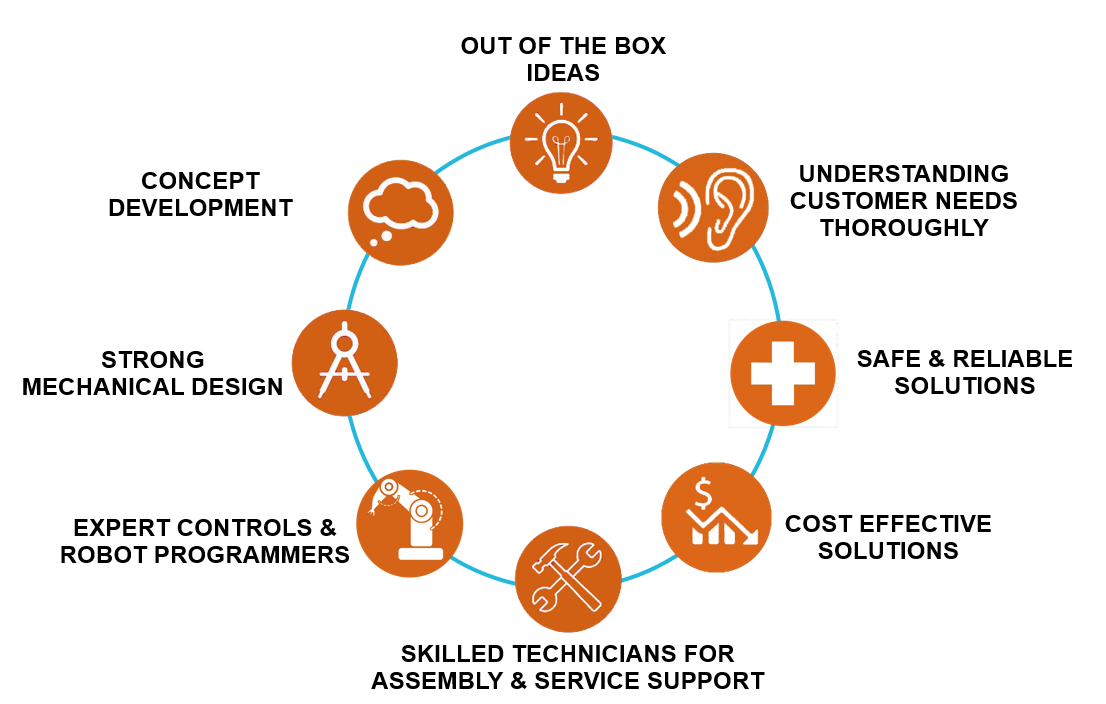 We understand the latest technologies and we apply them to our solutions, thus delivering machines with high operating efficiency.
We do advanced robot simulation using ABB Robot Studio and Fanuc Roboguide. During the design stage, the complete cell is simulated to achieve real-time cycle times. The machines are placed optimally to achieve best possible cycle times and smooth movement of the robot.
Our solutions are extremely reliable. The main indicator of the reliability is our revenue from service and spare parts supply. Over the years, the revenue generated from spares and service is less than 1% of our overall turnover.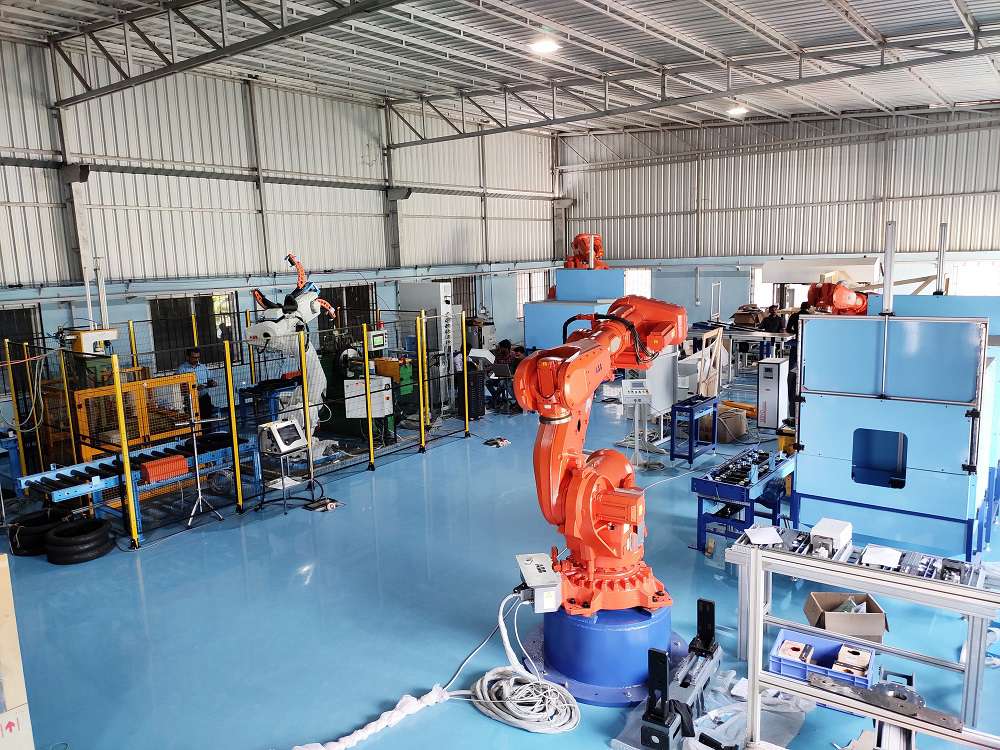 Team & Infrastructure
We have an experienced team of mechanical design engineers, controls engineers, robot programmers and assembly technicians. We have state of the art 6000 sq ft assembly area.
Robots are gaining a strong foothold in both manufacturing & process industries. All major Robot OEM's have a strong presence in India. Robots fall into the capital investment category similar to CNC machines. With proper periodic maintenance, their lifespan is quite long. Typically minimum 12 year utilization can be expected. Since it is a standard product, robots can be reused if the current application becomes obsolete. Presently due to the unavailability of labour for mundane and hazardous jobs, the use of robots is a must for the Indian manufacturing industry to sustain and grow. At Synapse we offer complete turnkey robotic solutions.
What is System Integration?
System Integration is the process of choosing, designing, fabricating and integrating the various components required for the successful operation of a robotic system.
Why is System integration more important than the robot itself?
A robot by itself is a machine similar to a CNC or a VMC. Without the proper selection of cutting tools, inserts, chucks, programming the path and the setting the feed and speed, a CNC machine will not be able to produce the desired results. Given the same CNC machine, if a component drawing is given to two different CNC programmers, one may be able to produce a component with more accuracy, repeatability and better finish, while doing it in less cycle time and managing the tool wear more efficiently. This results is much lower cost per component. This entirely depends on the skill of the technician.
Similarly, a robot by itself cannot do much. The success and efficiency of a robotic project depends on the systems integrator who selects and designs the components that make up the whole system. These may include grippers, part infeed and out-feed systems, fixtures, vision systems, safety components, and controls such as PLC or IPC based systems.
Why is ease of operation and training important?
If an automation solution needs to be sustainable, the operators need to embrace the system. Three key factors play an important role,
The system should be user friendly. This means the user interface on the HMI should be easy to use. All screens required for the operation of the cell need to be thoughtfully designed and placed. The relevant production data should be available

and fault messages need to be displayed for easy troubleshooting.

The system should be maintenance friendly and have all the required access.

The the team on the shop floor should have the willingness to learn and they need to be trained to run the system efficiently.
Why is customer supplier co-operation important for the success of a project?
Both the systems integrator and customer have to support each other patiently through all phases of the project in order to successfully complete the project.
During the initial design and concept phase, all relevant data should be passed on to the integrator. As the existing manual process is usually established over the years and when an integrator studies the project, the customer may feel that certain data does not have to be passed on. Since the integrator can only spend a limited time on the shop floor some data may be missed during observation. This will result in delays and issues during the installation phase. It is recommended that the entire, engineering, production and maintenance teams from the customer side are present for the initial and DAP meetings to provide all possible inputs, suggestions and validate the design. This plays a key role in the success of the project.
During the installation phase, some other issues may crop up. Typically the components may have some variations due to the process. When run manually, they are filtered by the operators. While switching over to an automated system, these issues will be highlighted as the system may not have the intelligence to filter out the variation. This will result in rejections and downtime. Both the integrator and customer have to work together to reduce the variation and improve the efficiency of the system.
Once the issues are resolved, with proper preventive maintenance, a robotic cell will typically produce 20 to 25% more output.
We have rich experience and specialize in system integration. Our engineers have a keen eye and they capture as much detail as possible during the data gathering stage. Valuable inputs from customers are incorporated into the design. Our controls team supplements this with a robust controls system and user friendly interface. This combination has resulted in several successful
The highest population of robots is in the area of welding. Spot welding is a very tiring job for operators and the productivity is very low.  While spot welding is mostly restricted to automotive BIW (Body in White) applications, MIG welding is most popular for sheet metal and tubular fabrication. MIG welding applications require skilled labour. For robotic welding, the input components need to be very consistent and clamping fixtures need to be thoughtfully designed.  Part manipulators such as 2 axis Rotary positioners are an integral part of robotic welding. They are needed to improve the accessibility and to achieve proper torch angles.
One of the issues faced by customers is the inconsistency of the input materials. Typically components prepared using laser cutting and CNC bending have better accuracy, but when it comes to thicker sheets above 4mm, there is still a lot of variation.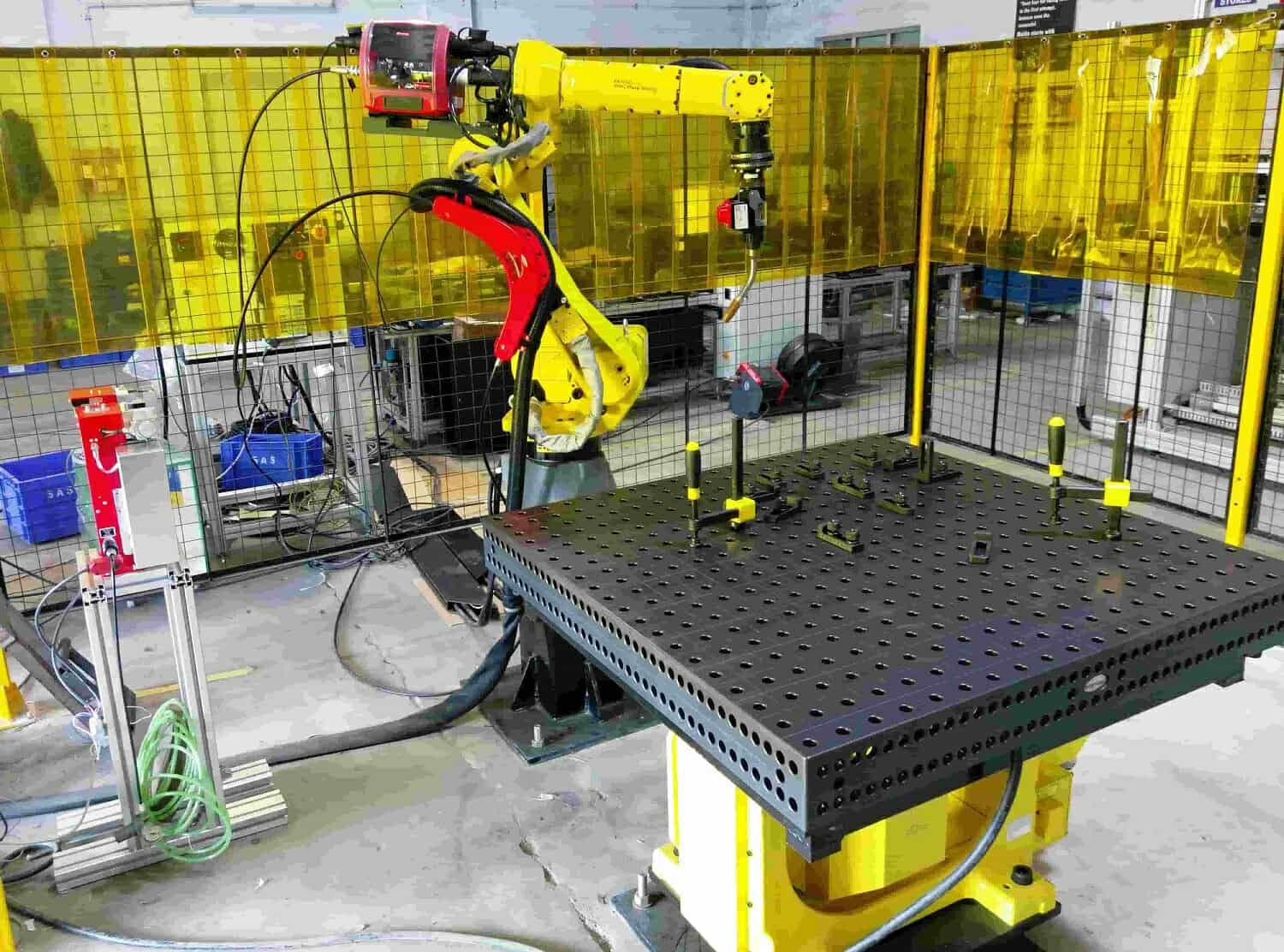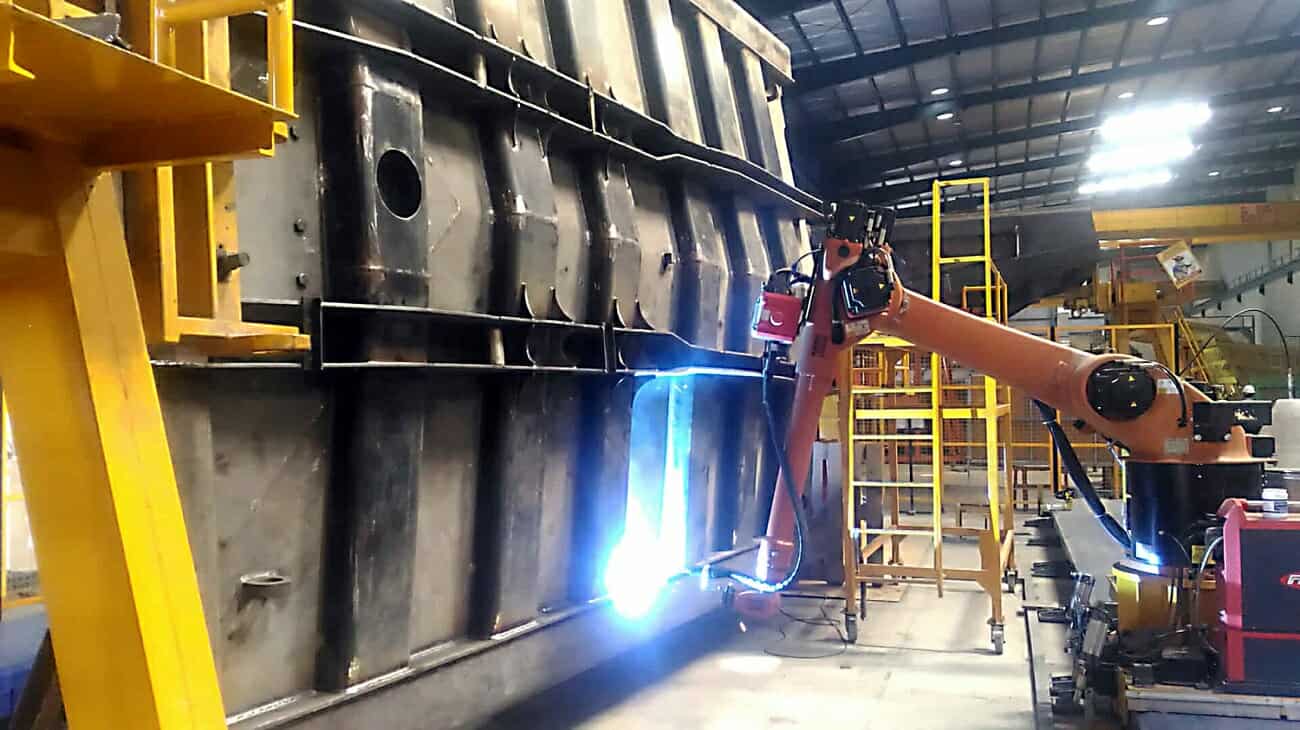 The following advanced sensing technologies are available to compensate for the variation in components,
Touch sensing

Arc sensing

Laser seam tracking
Using these methods, the feedback is provided to the robot and the path is automatically adjusted to make up for variation. These options add cost and are to be used as a last resort and for longer seams. The best method is to improve the input component quality by improving the upstream processes and ensuring proper fit up.
Equipment up-time
Welding power sources are expensive. The typical up time of a manual welder is around 50%. With Robotic units, the uptime can be as high as 85%. So the same amount of welding can be done with less power sources, fixtures and floor space. A huge savings in the connected load can also be realized.
Typically a single robot can be used to service 2 or 3 workstations. So while the robot is welding, the operators can complete the part fit up at another station safely. 7th axis tracks can be used to extend the reach and utilization of the robot.
Operator Health & Safety
In a robotic system,  the operators are completely isolated from the smoke and the hazardous light emitted during welding. A properly designed exhaust system can provide a cleaner environment.
Spatter Control
Another area where robotic welding helps is spatter control.  Spatter can be drastically reduced by using proper torch angles and fine tuning the parameters. If spatter is reduced, the components can be directly sent for downstream operations such and machining and powder coating.  The labour required for grinding can be indirectly saved.
Material Savings
Consumables/Material savings can also be realized, as manual welders tend to over weld. Over welding also leads to distortion.
Quality and consistency
The quality of the part is drastically improved.
Welding robots require constant maintenance and care, so that they provide the above mentioned benefits. To improve the uptime(arc-on time) , the following accessories are strongly recommended for a complete system
Wire snipping stations

Torch cleaning stations

Crash boxes or Clutch mechanism to stop the robot in case of an accident

Automatic TCP correction tool
For welding, we offer complete solutions with component fixturing and safety interlocks.  The required operator training can be provided, so that simple tasks such as program touch up and parameter adjustments can be done by the technicians. Our solution at one of the OEM's involves an OH Gantry system for welding large sheet metal components used for textile machinery manufacturing.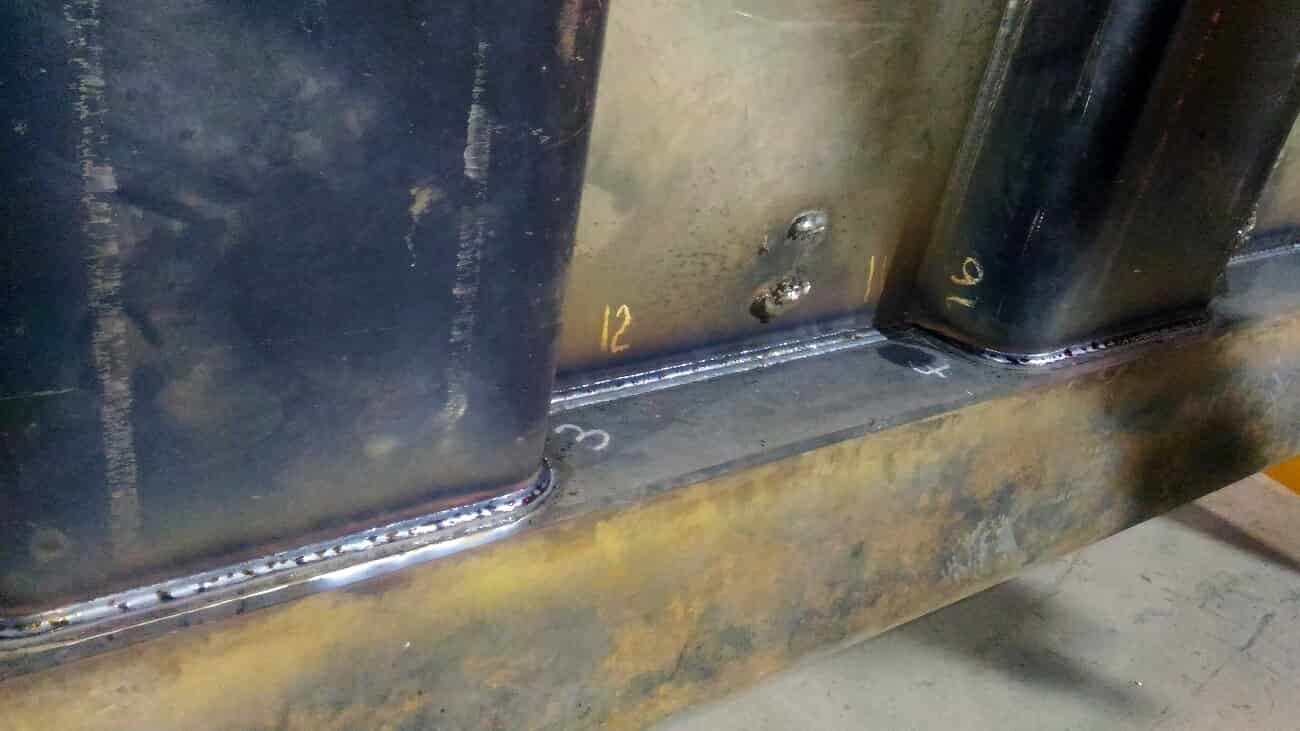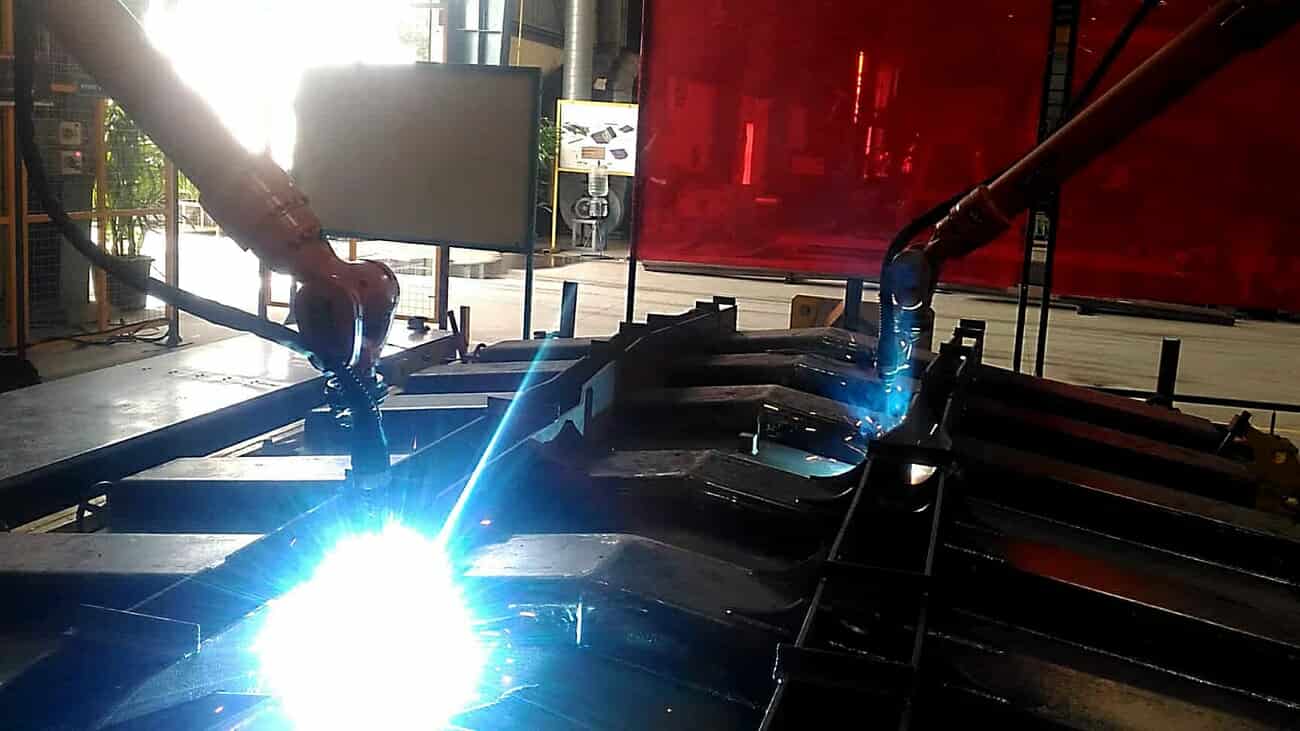 ROBOTIC DEBURRING, FETTLING & DEFLASHING
PDC Fettling
Deburring of Aluminium PDC components is time consuming, hazardous and tiring for operators. It is very difficult to match the output of PDC machines with manual fettling. This is where robots come in. For high volume components, 6 axis robots with compliant deburring spindles and tungsten carbide burs are used for removing the excess material from the component.
The quality of castings needs to be good and the parting line flash thickness and length should be consistent. If there is consistency, robotic deburring can drastically improve the productivity and significantly reduce the dependence on labour. Inventory costs will also come down as the components can be delivered to customers faster.
A variety of high RPM pneumatic deburring spindles are available with both axial and radial compliance. Compliant grinding wheels are also available for removal of thicker gates. Linishing tools can also be added. Tool selection is highly critical to ensure the success of deburring projects. Runner riser cutting can also be accomplished with robots.
Deburring can be accomplished by two means. Option 1 is where the deburring tool is mounted on the robot and the component is located in a fixture. In this case, if multiple tools are to be used for deburring, tool changers can be used to pick up 2 or more tools. Option 2 is where component is handled by the robot and deburring tools are mounted on pedestals. This is a cost effective method.
Casting Fettling
Grey and SG Iron casting fettling is a mandatory operation prior to machining. This process is very labour intensive and hazardous. The dust generated during grinding and the risk of injury during long hours of fettling poses a serious health hazard. If in house fettling capacity is insufficient, components have to be sent out to third party suppliers for fettling. This non value added transport and loading/unloading process increases the cost per component. The inventory cost also adds up.
High payload foundry specification robots can be utilized to effectively fettle castings. The robots can run 24/7 and provide consistent results.
For smaller components, the robots can grip the components and present them to pedestal mounted grinding wheels. These special wheels are diamond coated for long life. The grinding unit is mounted on a pneumatic compensation unit. This is provided so that the robot does not get overloaded in case the runner/in gate material is excessive. For tight profiles and parting line flash removal smaller, milling cutters with indexable inserts can be used for material removal.
We have bulk in feed systems such as slat chain conveyors where an hour's supply of components can be loaded. Vision systems can be utilized to locate the component and identify the location of the runner/in gate material to be removed. This eliminates the need for an operator to be present near the cell for loading/unloading. One operator can man multiple cells. This type of in feed system is suitable for smaller diameter circular components. Typical fettling times for these components are less than a minute.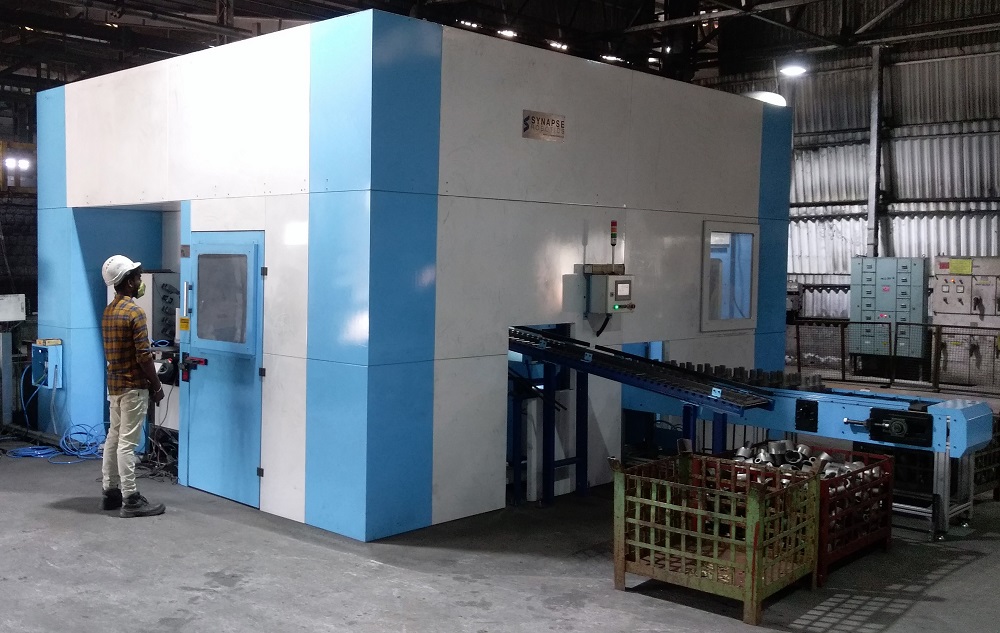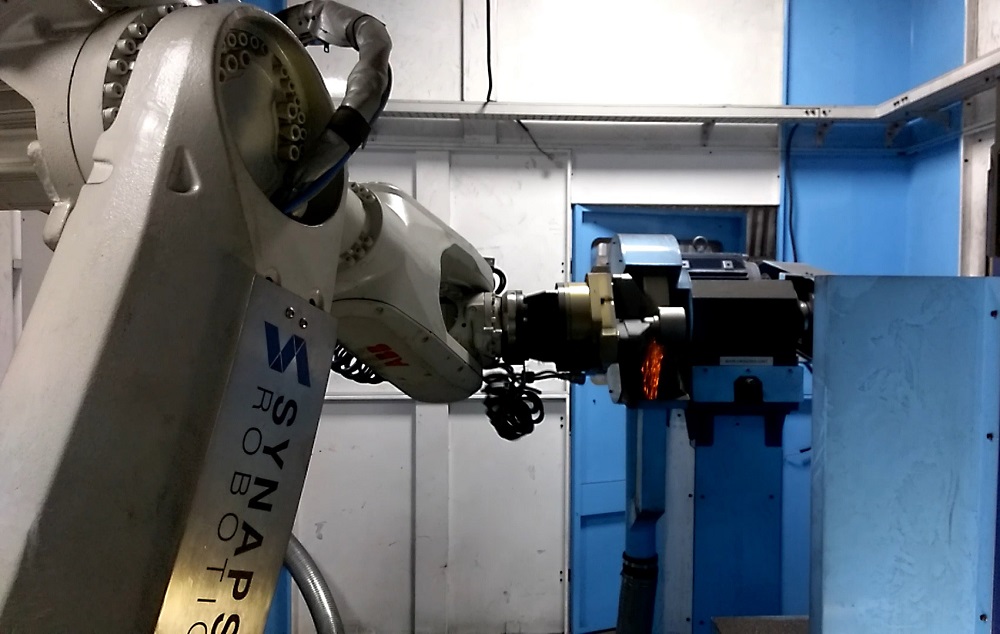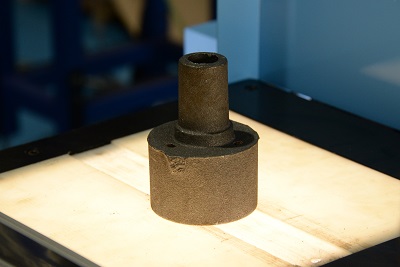 For other complex shapes, simple laser cut fixtures mounted on indexing or rotary tables can be used for component in feed. These require frequent loading and the presence of a full time operator.
For heavier components, the components can be fed to the robots using a turntable or slide table. The component is fixtured in place. A robot mounted high speed HSK spindle can be utilized along with an array of tools mounted on a tool changer or rotary indexer. Typical cycle times are more than 3 minutes for these components due to the complexity and multiple tool changes required.
All our systems come standard with safety fencing and interlocking gates. Optional dust collection systems and sheet metal enclosures can be provided to reduce noise and dust.
Machined Component Deburring
High precision components processed on VMC's and HMC's tend to have sharp edges after machining. Drilled holes that open up on the inside of the component require precision deburring.
Gears require precision deburring after the hobbing process is completed. Deburring is a critical process as the geometry of the component should not be altered. Only the burrs projecting should be removed.
Repeatability and precision are 2 key features required for deburring. 6 axis robots provide just that. Deburring requires brushes, embedded wheels or tungsten carbide burrs. Tool wear and tear is inevitable during the deburring process. Automatic compensation offsets can be provided on the robot programs after the wheel wear pattern is established. Sensors and probes can also be used to measure the wheel diameter periodically and program offsets can be based on the diameter values.
Pneumatically actualled collets are available as an option on some of the deburring spindles. When the wheel diameter reduces beyond a certain value, the bur or tool can be automatically exchanged for uninterrupted production.
PICKING,PACKAGING & PALLETIZING
Picking falls under primary packaging. This is the activity where the individual items are picked and placed into flow wrappers or cleated conveyors for further packaging. The parts are fed randomly on a conveyor. High speed delta robots working in tandem with vision systems and conveyor line tracking functions are used for this operation. Products such as chocolates, bakery products, meat and small personal care products will be an ideal fit for high speed pick and place applications. Each robot can reach speeds upto 120 picks per minute  Multiple robots can be mounted on a Overhead structure and the picking load is distributed between the robots by powerful application software.
Case packaging
Case packaging comes under secondary packaging. High speed filling lines churn out tens of thousands of unit cartons per hour. These need to be aligned and packed into cartons. Typical items include FMCG, pharma, food and industrial products.  Multiple operators are required to service high speed filling and primary packaging lines.
Complete turnkey case packaging systems can be supplied with the following solutions,
Automated Carton erectors. These are dedicated and suitable for high speed lines running the same carton type. Only one




carton type can be run at the same time. Manual or automatic setting change required for recipe change over.

Robotic Carton erectors – These systems are more flexible. One robot can service 3 to 4 lines with a variety of carton sizes.




This provides an advantage over dedicated carton erectors.

Bottom and top sealers.

Product in feed systems and collation conveyors. Both lane type and servo collators are used based on the SKU's and




flexibility required in the system.

Robotic grippers. Vacuum, pneumatic and servo grippers can be used. Tool changers can be used if separate  grippers are




required to handle multiple SKU's

Additional accessories such as online checkweighers,  bar code readers and printers can be integrated into the line
Palletizing is a back breaking operation for humans. Usually high speed packaging lines churn out thousands of cartons per hour. Multiple SKU's are also involved. Proper segregation and packaging is a very repetitive job . Production losses due to fatigue and back injuries are common. High speed 4 axis robots can be deployed to complete this mundane task.  Robotic automation offers increased flexibility when compared to hard automation. Recipe changes are much quicker and can be automatic.
Infeed systems for cartons include gravity, powered roller conveyors and flat top belts. If accumulation buffers are required, zero back pressure accumulation belt conveyors can be added to the system. Spiral conveyors are used to elevate and lower cartons to and from overhead buffers.
Fixed palletizing systems are dedicated to each line. Every line has its own buffer and palletizer. This is suitable for high volume dedicated lines. The disadvantages are that if there is either a breakdown in the palletizer or packer, the entire line is down.
Flexible palletizing cells on the other hand offer better productivity when multiple packaging lines are present. They are required when multiple case packaging or cardboard packer lines produce a high volume of cartons. The cartons are collated, taken up to overhead buffers using spirals. The cartons are then transported to a dedicated palletizing area where multiple robotic cells are used to palletize a variety of SKU's. Using bar code scanners and sortation systems such as Activated Roller Belt (ARB) conveyors, the cartons are sorted and fed to multiple pick point conveyors.  Every cell could have a floor stacked pallet solution or have a set of pallet handling conveyors. Each robot can handle up to 3 SKU's at a time depending on line speed.  If the line speed is lower, the robot can be moved on a 7th axis track and more SKU's can be serviced. These high speed robots are capable of 1500 cycles per hour.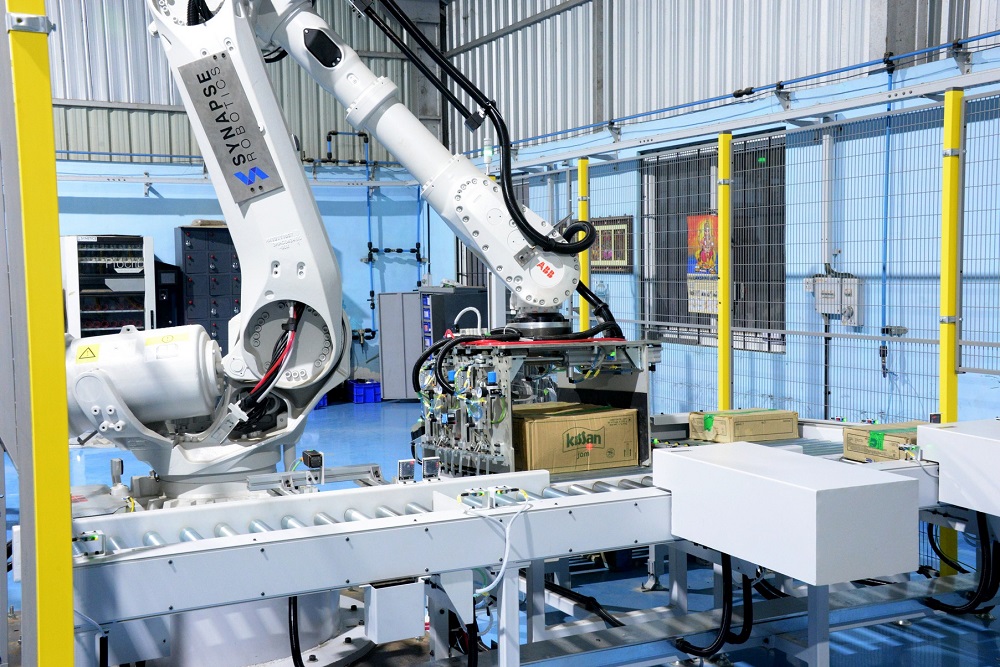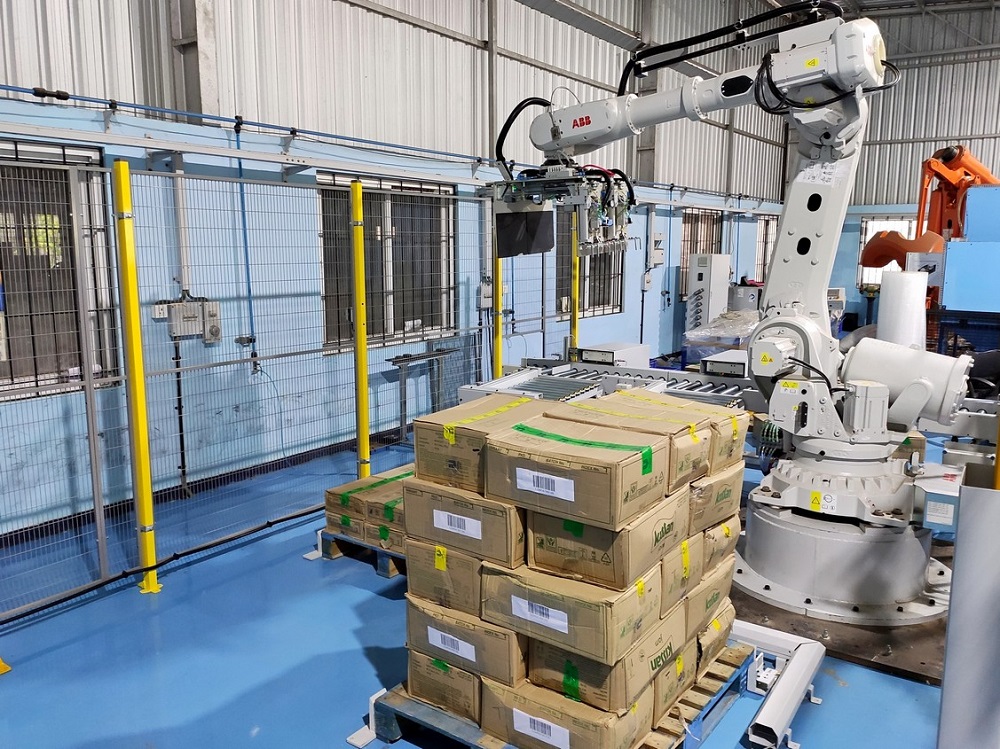 A Variety of grippers are used to suit the application,
Vacuum grippers can be used for stronger and lighter weight cartons, where higher line speeds are required.

Pneumatic friction grippers with a bottom claw are the widely preferred and economical option.

Servo grippers are more expensive and suitable for higher speed applications. They serve 2 purposes. They save cycle time where the size difference in cartons is high. They also protect the products inside the cartons which are prone to crushing when excessive force is applied. Higher speeds can be achieved with servo grippers.

Robot grippers can also be designed to do additional functions such as slip sheet placement and empty pallet handling. This saves cost but increases cycle
Products such as rice, lentils, animal feed, carbonate, cement, gypsum and plastic pellets need to palletized for transportation to retailers. Bag weights vary from 10 to 50 kgs. For heavier bags above 15kg, two operators are required for stacking.Typically the line speeds vary from 7-8 bags per minute for heavier bags and go up to 20 bags per minute for lower weight bags.  Robotic palletizing solutions are economical and offer the versatility required for frequent product and pattern changes.Claw type mechanical grippers are best suited for bag handling.  To maximize the utilization of the robot, 2-3 lines can be serviced by 1 robot. These solutions are often integrated with other accessories.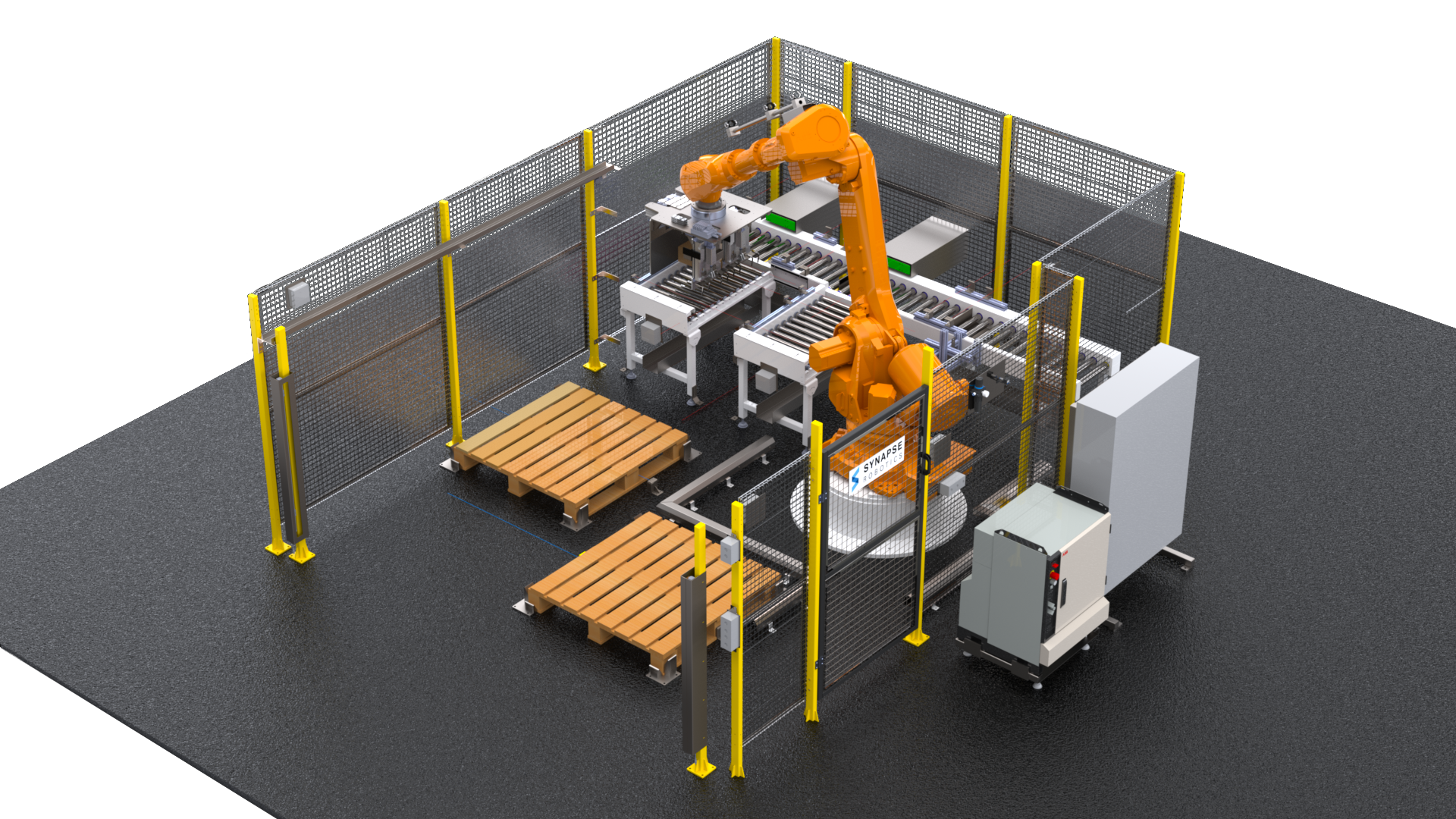 Accessories for Carton and Bag Palletizing Solutions
Pallet Dispensers. Due to the sheer volume of pallets required for high speed lines, pallet dispensers are a must. They improve the productivity by ensuring a constant supply of pallets to the palletizing stations. Pallet dispenser fed systems provide much better safety when compared to grounded pallet/floor stacking systems.

Pallet inspection systems. Pallets can be inspected for strength and dimensional integrity prior to palletizing.

Empty and filled pallet shuttles. A single pallet dispenser is used to service multiple load stations and filled pallets can be evacuated. These are suitable for low volume lines.

Rail Guided Vehicle system (RGV). RGV's can be deployed when a high volume of pallets need to be fed and evacuated. RGV's offer the flexibility and speed required for these conditions.

Base & Slip sheet dispensers. Base sheets are usually required on the base of the pallet, but in some cases, a slip sheet needs to be inserted between each layer.Automated slip sheets dispensers save valuable time, so that robot is dedicated to the palletizing operation.

Empty and filled pallet conveyors. Both roller and chain type conveyors are used depending on the pallet weight and configuration.

Online checkweighers. These devices measure the weight accurately while the bags/cartons are moving at the required line speeds. The bags that don't conform to the specifications are rejected.

Metal detectors. For food products, there is a chance of contamination in the upstream process. Metal detectors are used to identify impurities with metallic content.

X ray machines. Metal detectors have their limitations. They do not detect impurities such as plastic, glass, wood and other non metallic objects. X ray machines are used to capture these foreign objects.

Bag Flatteners – For powdered products such as flour, cement and carbonate, dual belt type bag flatteners are recommended. For granular products such as rice, lentils animal feed and plastic pellets, a square roller type flattener is more economical and solves the purpose. Bag flatteners make the bags compact and ensure consistent layer building.

Bag Pushers and bag kickers. They are used to rotate and tilt bags

Stretch wrappers. Depending on the line speed , different types of stretch wrappers are available

For low speeds up to 25 pallets per hour – Turntable type

For medium speeds up to 60 pallets/hr- Rotating arm type

For High speeds – 140 Plus pallets per hour – Rotating Ring type

Top cover placement options can be added for waterproof solutions

Label Applicators – Side, front and back applicators are available to add the tracking functionality to stretch wrapped pallets.
Aluminium Ingot Palletizing

Aluminium Ingot palletizing is a tedious task. The ingots are heavy and sometimes hot. We specialize in Aluminium Ingot palletizing. Our customized grippers are capable of handling
10kg ingots in a 7 Ingot pattern

22 kg ingots interlocked in a 5 Ingot pattern.
We have provided solutions to top smelters such as Emirates Global Aluminium (EGA) in UAE and Aluminium Bahrain (ALBA) in Bahrain. These highly customized grippers are very reliable. We use SS 304 materials for the frame construction and other specialized alloy steels for the wear and tear parts which are heat treated for long life.
SAFETY IN ROBOTIC SYSTEMS
Safety engineering is an Integral part of robotic systems. Robotic cells are frequently accessed by programmers, operators and maintenance personnel. Accidents and injuries are bound to happen if the required safety systems are not implemented. All our solutions are engineered with full safety compliance. One or more of the following safety precautions are included in all our cells.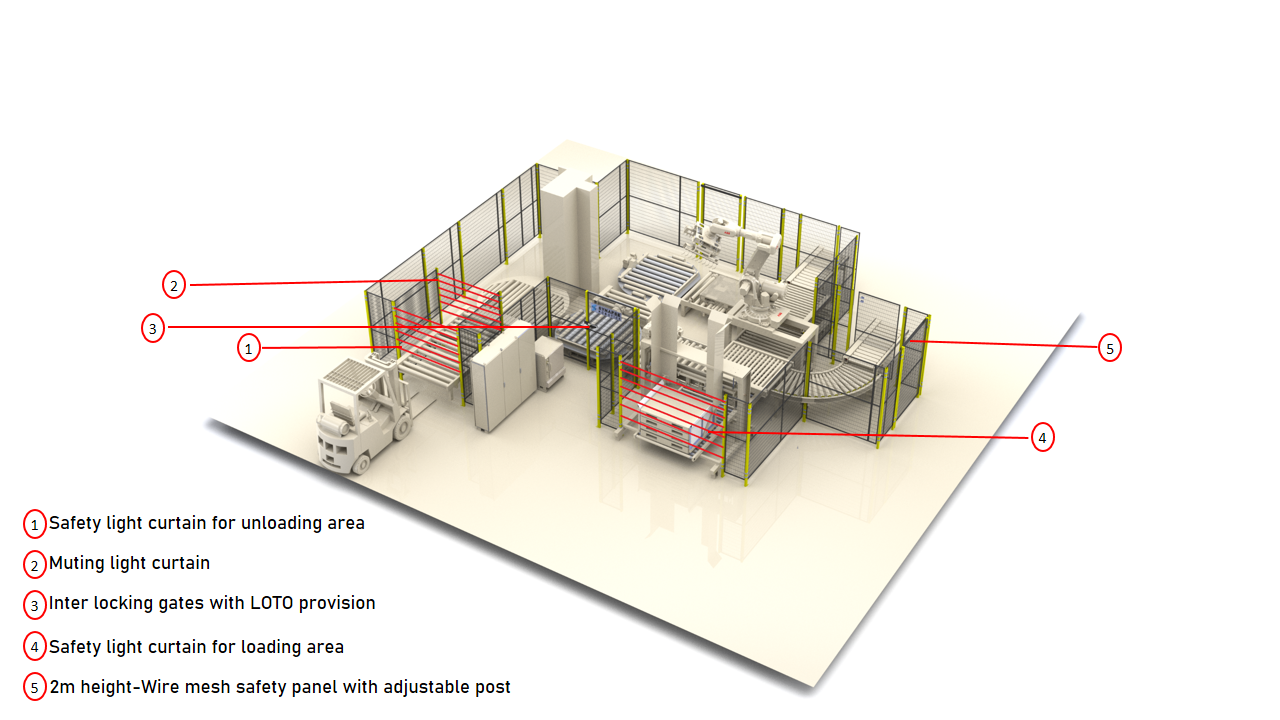 All points of ingress to the cell are restricted by safety fencing
For maintenance and teaching access, gates with Interlocking switches and provision for lockout.
Lockout provision for disconnects as well as pneumatic supply
Platforms for teaching and maintenance access will also have lockout provisions
In areas where trolley needs to be docked for material exchange or pallets need to be removed by fork trucks, light curtains and or safety mats need to be provided.
For conveyor systems where filled pallets are transferred out of the cell, light curtains with muting options are required to prevent operator entry.
For material handling cells where the operators load and unload components the operator load point should be isolated from the robot by means of conveyors, slide tables or turn tables.
For fettling and deburring cells where there is a chance of debris flying of the tools, complete sheet metal enclosures may be required. Roll up curtains are also used to safeguard the operator load stations
Robot movement can also be restricted by using hard stops
For certain applications where frequent operator intervention or co-working is required, cobots can be deployed or area scanners can be used to slow/stop the robot.
Pull chord switches may be used for conveyors where there is chance of operator injury.
All our systems come standard with safety relays for both E-Stop circuit and perimeter guarding. For certain solutions safety PLC's are mandatory.
We provide the basic safety training to all personnel at the time of commissioning. We also notify the safety procedures to be followed while operating and maintaining the cell. We also recommend that the provided lockout procedures are followed prior to cell entry.
If required, third party safety audits by Pilz or Schmersal can be provided at additional cost.
Tyre Handling
Tyres are bulky and awkward to handle. All tyres go through a 100% inspection process before dispatch. Two wheeler tyres have to be tested for both imbalance and trueness (runout/phaseout). Typically an operator handles around 800 tyres per shift putting them through imbalance and trueness testing machines. Considering an average weight of 4 kg per tyre and 3 picks and places to process each tyre, the cumulative weight handled is around 10 tonnes/day. This repeated handling results is a lot of fatigue for the operators. There are severe productivity losses towards the end of each shift.
Robots are ideally suited for this application. The tyres are fed from the previous manual inspection stations on an infeed conveyor and the robots take care of the rest. The tyres are fed to the imbalance machines and then the trueness testing machines.The tyres that pass the tests are marked and sent to the next process on an outfeed conveyor. The rejected tyres are separated based on the type of rejection and a printer is used to print the reject data on the tyres. These tyres can then be reworked or scrapped based on the type of defect.
Bottle Descrambling
Bottle descrambling is one of the applications best suited for Delta Robots. Bottles dumped into a hopper are elevated using a cleated belt conveyor. The bottles are then fed to a linearizer unit which orients the bottles in either neck forward or reverse orientation.
This improves the density of bottles on the infeed conveyor. The orientation also simplifies the work done by the vision system and saves time for the robot during picking. The robot picks up the bottles in the horizontal orientation from the conveyor, flips it 90 degrees to a vertical orientation by using either a pneumatic or servo actuator. The bottle holders or pucks are moved through a servo controlled timing screw. The robot places the bottles to pucks.  The pucks feed the bottles to the filling lines. The repetitive and mundane job of picking and placing the bottles is now accomplished by a robot. For non symmetrical bottles, the robot ensures that the bottles are placed in the pucks in the proper orientation  for cap placement.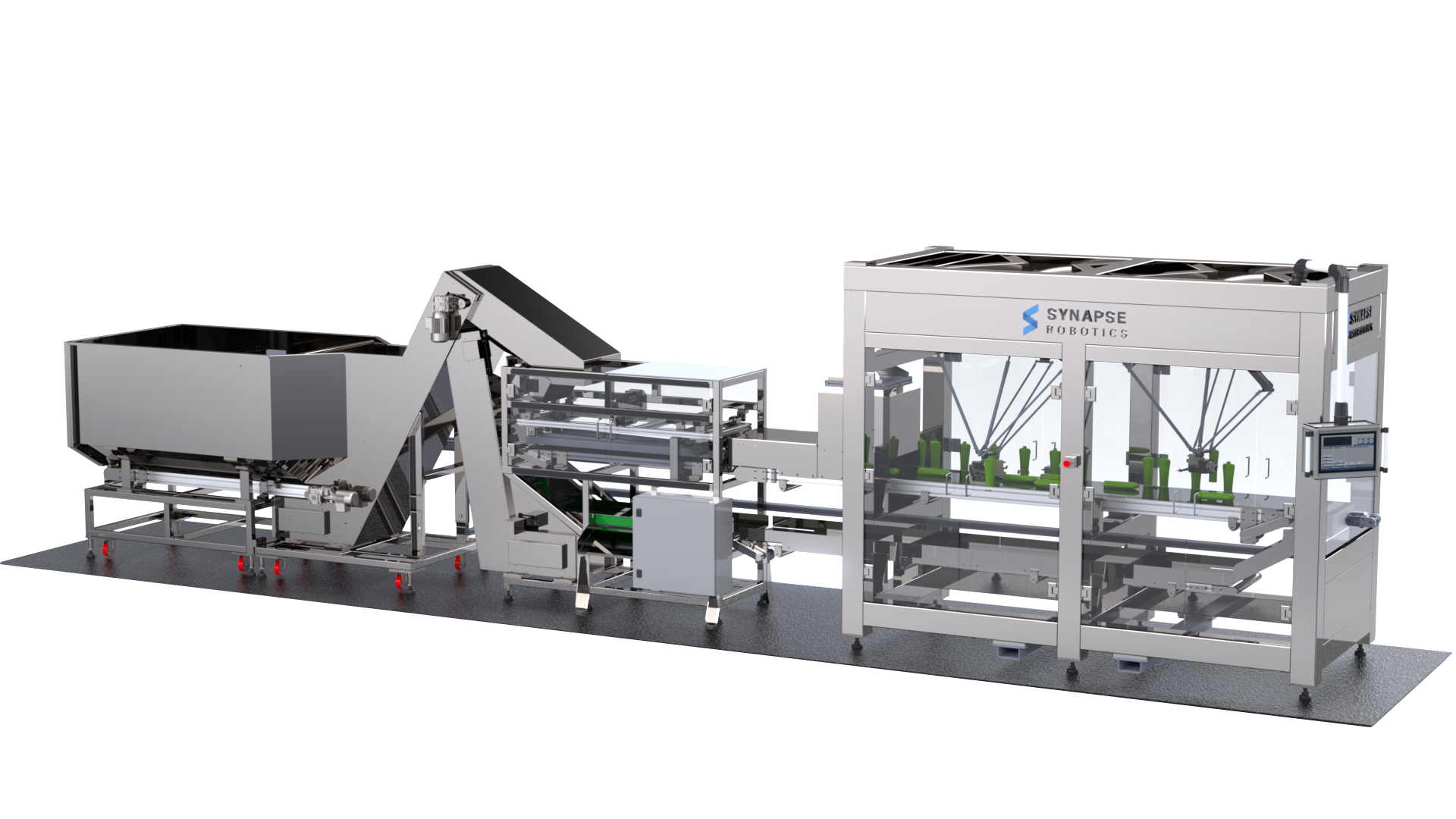 Robots are also used for interesting applications such as coffee vending and bar tending. These applications represent the fun side of robotics. We have developed a compact robot barista which is sure to delight customers. This kiosk is a customer attraction which can be used to enhance and market your brand of coffee or soft drink. The other purpose is to free up the staff for other customer centric functions, while the robot takes care of the repeat job of serving customers.
Various brands of coffee and soft drink vending machines can be integrated with robots. Purposefully designed software with attractive features lets the customers browse and order their favourite drink. While the customers watch the robot does its antics and serves coffee.
POS systems are integrated to provide a completely automated user interface, similar to some of the advanced vending machines on the market.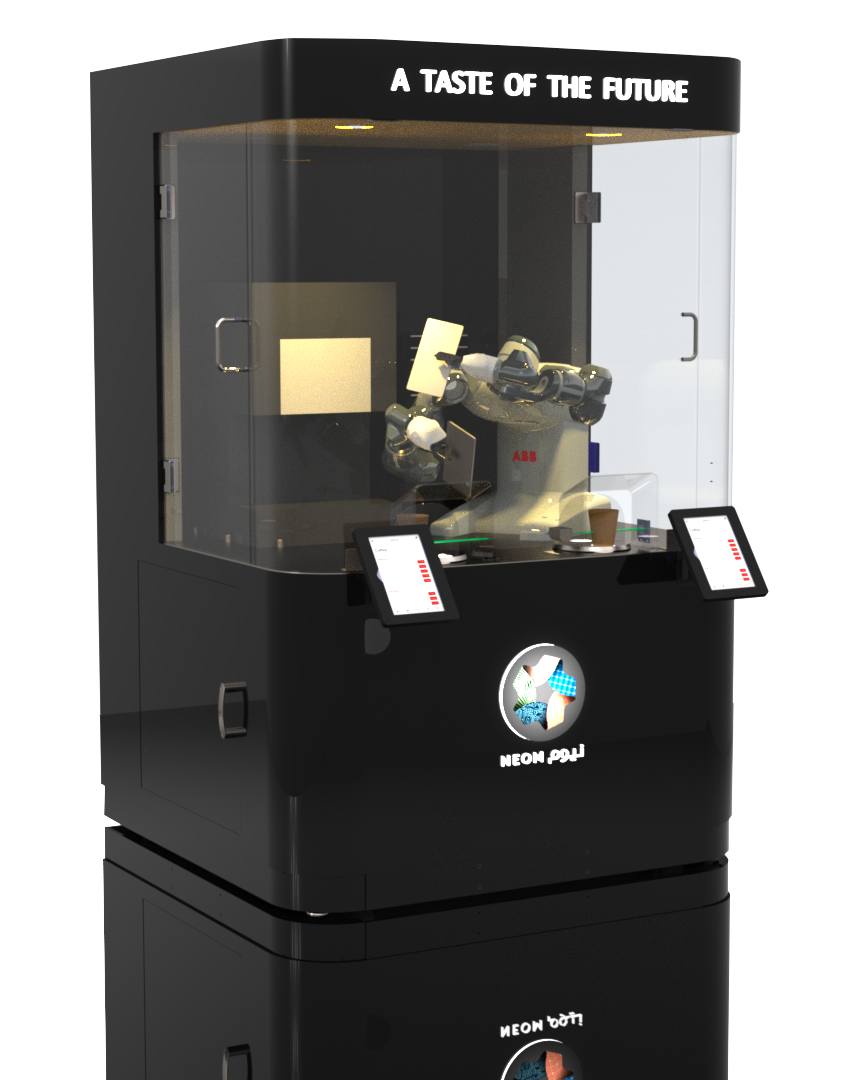 Modular Training Cells – EduPOD

Learning how to use robots is an integral part of today's engineering curriculum. Several courses such as Robotics & Automation and Mechatronics engineering require the use of robots for hands on training. At Synapse, we have developed a modular training cell which is very advanced and at the same time, simple to use. The features include,
Portable POD with a compact footprint.
2. Compact 6 axis robot with 6 kg payload
3. Compact controller housed inside the POD
4. Modular concept for experiments. Each module is built on a separate frame. The available modules are

Beginner level modules with grippers and simple pick and place experiments

Medium level modules with continuous path programming options

Advanced modules with integrated vision and assembly




Modules can be removed and stored inside the POD when not in use.

Customized modules can be added and at any time for advanced courses.

The system is very flexible and students can get creative and design new modules as and when required

5. Optional PLC can be included. This enables students to learn how to interface robots with a PLC. This is a typical requirement for all industrial robotic cells.
6. Ready to use solution with preconfigured plug and play modules.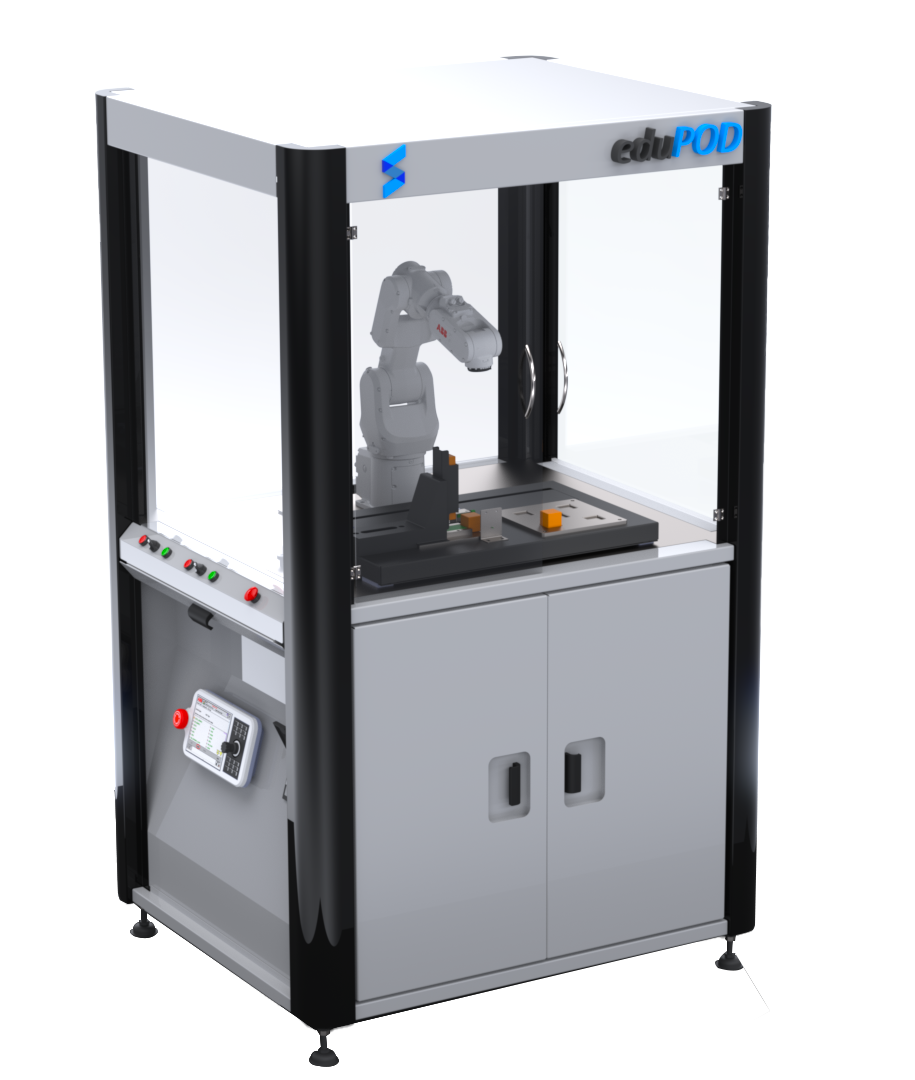 Robot Simulation and Programming Support
We have licensed versions of ABB Robot Studio and Fanuc Roboguide. The following simulation studies can be completed using the software
Offline program generation
We provide robot programming support as a service on a man day basis. Our programmers have handled the following robots.






We build assembly automation solutions for high volume consumer, electrical or automotive component assembly.
Rotary indexers, linear indexers or palletized conveyors can be used for component transfer. Rotary and linear indexers provide high repeatability and offer the maximum time for assembly, as the transfer time can be less than 1 second. They are best suited for low variant/high volume components, where 100% automation is the solution. These are rigid systems and future operational changes are not possible.
Pallet conveyors can be used for larger components with slower cycle times. Palletized systems are usually modular. Stations can be added or removed as and when operational changes are required.
The solutions can be semi-automatic with complicated & skilled operations still being done by operators. The repetitive high fatigue operations and operations with integrated testing can be done using automation. This ensures a cost effective solution.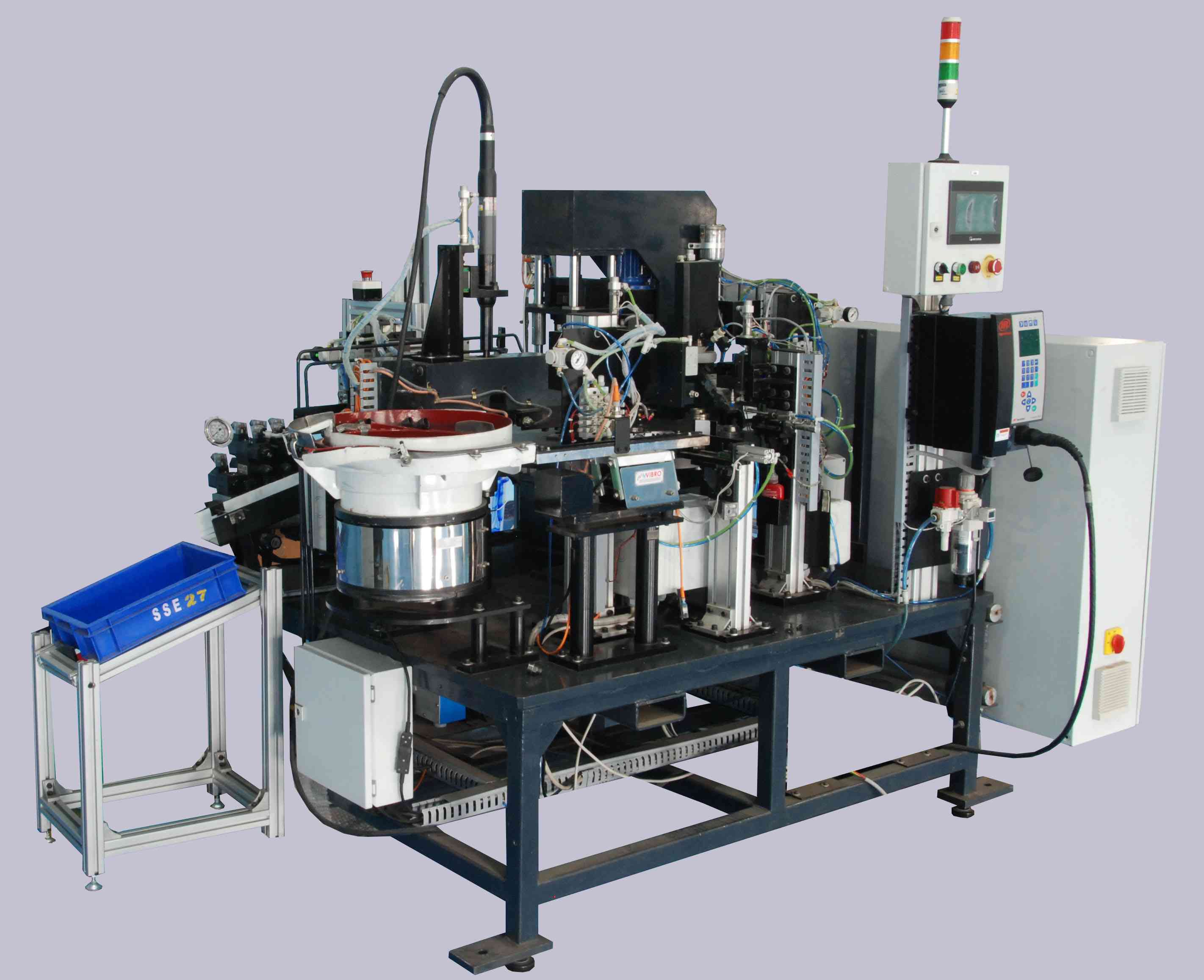 Part infeed can be accomplished through indexing tables, vibratory feeders, step feeders & slat chain conveyors. Pick and place systems, robots, screw feed systems, pneumatic/servo presses and nut runners can be used for component assembly. Vision systems and load cells can be integrated for in process gauging.
Based on the cycle time requirements & precision, the pick and place mechanisms can be powered using pneumatics or servo motors.
7th AXIS & OVERHEAD GANTRY SOLUTIONS
7th axis systems are used to extend the reach of a standard robot. 7th axis system can be provided using
Rack and pinion systems
For medium to high speed applications with medium to high precision. Typical applications include material handling, welding & machine Tending (CNC & Presses)
Toothed belt drive units
For high speed applications with low to medium precision. Typical applications include painting & material handling. Toothed belt units can be provided at a lower cost compared to rack & pinion systems.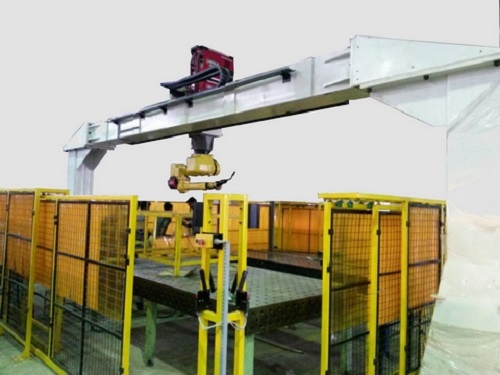 For applications such as CNC Machine tending, a single robot can be used to tend to 3 or 4 machines when the machining cycle time is more than 2 minutes per component.
For welding, the welding cell can be split up into two safety cells. While the robot is welding in the 1st cell, the operator can be loading and unloading components to fixtures in the 2nd cell & vice versa. This provides maximum utilization of the robot, while allowing the operator to safely load and unload components. This type of set-up provides better ROI as robotic welding cells are expensive and maximum utilization of the equipment is necessary.
The 7th axis systems are fully integrated with the Robot Controller and act as an extended axis, Making Programming Easy
CNC AUTOLOADERS
We are the leaders in India in the manufacture and installation of stand alone CNC Autoloaders. With over 25 installations in the last 2.5 years, we have proven systems running across India.
We are now designing & building our 4th generation autoloader which has a compact footprint and improved reliability. Our autoloaders are currently running on LMW, ACE, Jyoti, Hwacheon & Marshall machines with both Fanuc and Siemens systems.
CNC Autoloaders are low cost solutions when compared to Robotic and gantry systems. They can be retrofitted to any existing CNC Machine. The installation and interface process can be completed in about a week's time.
Suitability
High Volume auto components with component dedicated machines.

Shafts from 200 gms to 30 kgs

Other high volume components such as bearing or shafts with minimal set-up changes.

Components can be either gravity fed or vibratory feeder fed.

Can be retrofitted to any CNC machine

Chuck only, chuck and center & between center components
Advantages of CNC Autoloaders
An unskilled helper can load/unload multiple machines

A separate skilled operator can be used for quality checks and offset corrections

Can run though lunch and breaks if the process parameters are defined

Same cycle time, same productivity on all shifts

Minimum 15% improvement in productivity

Better utilization of existing machinery. No loss of production due to absenteeism

On time deliveries and better customer satisfaction

ROI in about 2 years, not considering productivity increase.
Features
Pneumatically operated & PLC Controlled

4 inch touch screen for fault monitoring and control

Maintenance friendly design

Easy to use for CNC Operators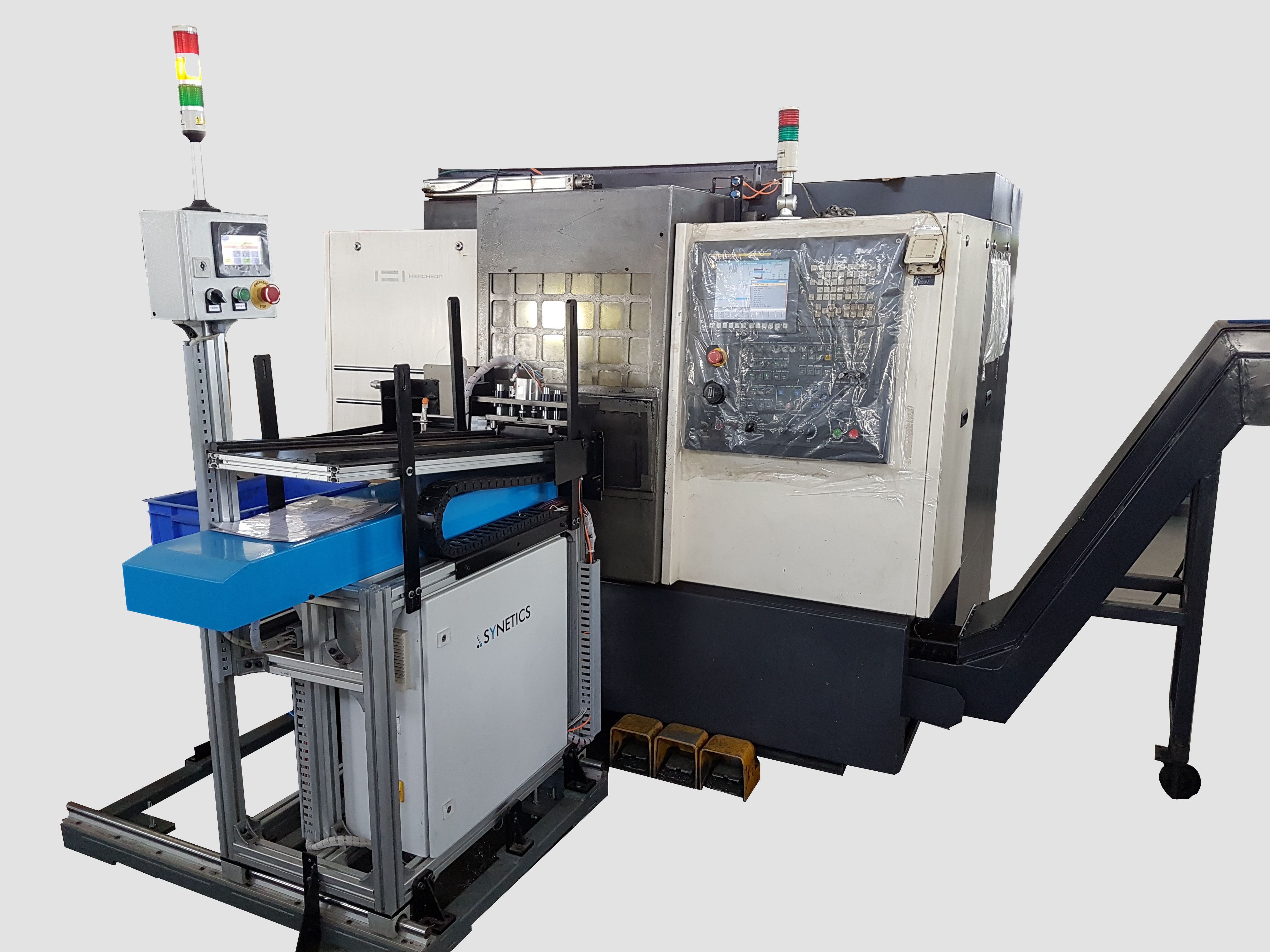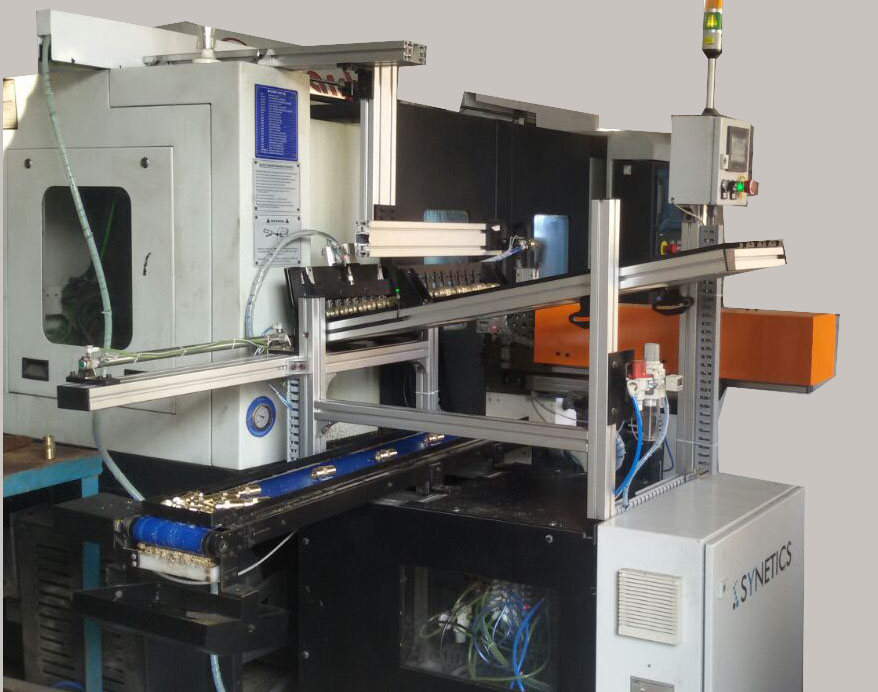 LPG Valve Autoloaders
We specialize in autoloaders for LPG valve machining. The autolaoders are custom designed for Marshall twin spindle SL 12D and DS450 machines. They come equipped with a high volume gravity feed system that can hold 100 components. The overall productivity is around 700 components per 12 hour shift, considering a machining cycle time of 55 seconds. One operator is able to run upto 4 twin spindle machines.
Auto-loaders for centerless grinders
A centerless grinder requires a minimum of 2-3 operators for loading and unloading parts. If our auto-loaders are fitted to centerless grinding machines, one operator can run 2 machines. This provides a quick return on investment and also improves the productivity by at least 25-30%. The quality is also improved as the components are pushed into the wheels in a very controlled manner. There is no gap between the components.
Loading a centerless grinder is a very tiring job as the components have to be continuously fed and constantly pushed into the grinding wheels to achieve micron level tolerances. Our auto-loaders can hold 50-100 components depending on the diameter of the shaft or tube. We have an in-feed system which feeds the components continuously into the grinding wheels. On the output side, an out-feed system removes the components from the grinding wheels, and accumulates them on a belt conveyor. The components are handled very gently and there is no damage, scratches or dents. Proper coolant collection trays are provided to return the coolant back to the machine.
The auto-loaders have fine adjustment in the up down direction to allow for component diameter changes. They also have fine adjustment in the fore/aft direction to compensate for wheel wear. Both the in-feed and out-feed conveyors are equipped with variable speed control to allow for feed rate adjustments.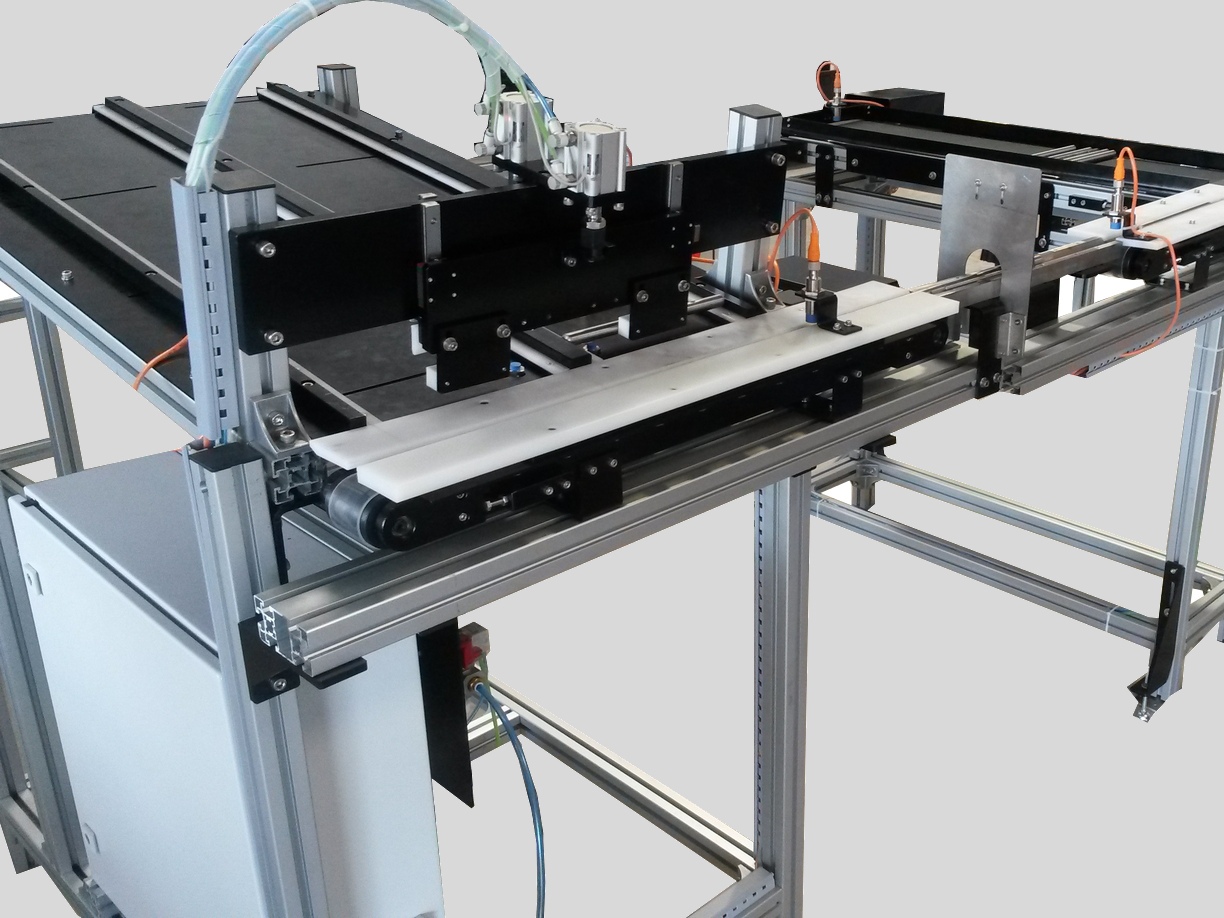 Three types of feeders can be used for centerless grinders,
Gravity Feeder
For components that need to be handled gently. Suitable for finishing passes. Components will be loaded in a single file. No damage to the component.
Billet feeders
For initial passes. Components are loaded in bulk into a hopper. Suitable for first pass operations.
Step/Elevator Feeders
For small dowel pin type components that cannot be fed using a vibratory feeder. Bulk components can be loaded into a hopper. These are suitable where the volumes are high and the feed rate is around 100  components per minute.
We can also provide solutions for plunge feed centerless grinding machines.
INFEED & OUTFEED SYSTEMS
We offer the complete range of infeed & outfeed systems for robotic cells. These systems ensure that the robot is continuously running thus maximizing the cell output. Another important aspect is that the operator who loads and unloads the components is isolated from the robot, thus ensuring 100% operator safety. All systems are proven and are being used by a host of OEM's and Systems Integrators
Gravity feeders with escapement
Gravity feeders are the simplest and most economical feed systems. They are suitable for shaft type components that roll by gravity. These can be designed with multiple rows to hold a large volume of components. The escapement system can be used to singulate the components are present to the robot. They occupy more space if a large volume of components needs to be stored.
Rotary Stockers
We manufacture precision rotary tables with lifters. They are used for storing a large volume of components for robot pick up. These tables can be designed to hold up to 500kg of components, so that a robotic cell can run un-attended for up to a full shift. These high volume stacker's are very reliable and require no maintenance. The robot or gantry can pick components from a single point, making teaching tasks simpler. The components need to be stackable, and should not require orientation.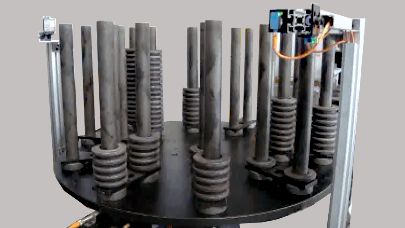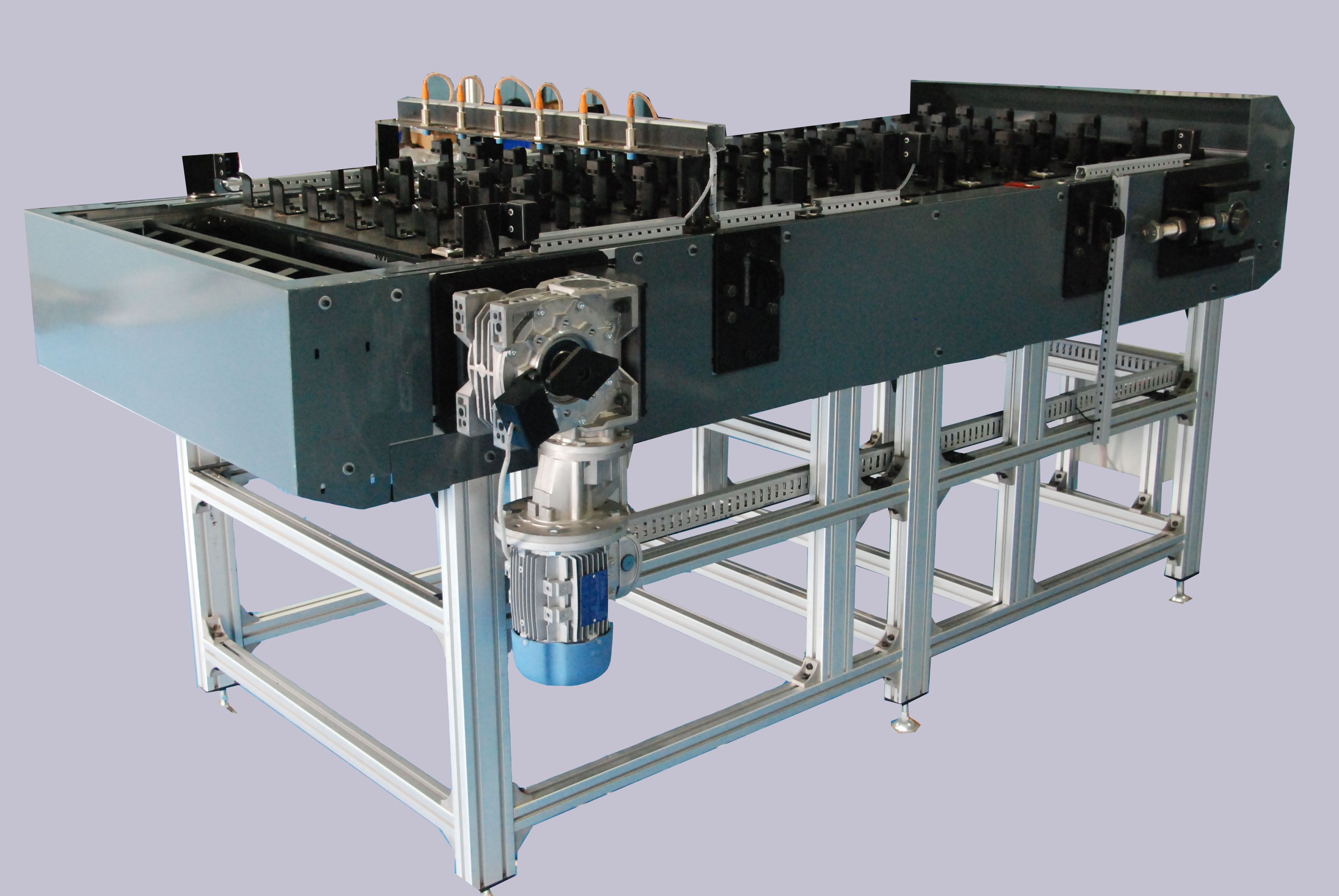 Slide tables
Our LM guide based slide tables are simple to use and can be used if a variety of components are to be fed to the robot. The top fixture sheets can be quickly changed out when a different component needs to be run. They can be configured as a double deck to minimize space.
Slat Chain conveyors
Slat chain conveyors are very reliable and precise. A large volume of components can be loaded. They are suited for components requiring orientation. For frequent model changes, the top fixture can be quickly replaced. Quick change mechanisms are provided. Fixture replacement time will be around 15 minutes. This can be done while the set-up change is being done on the CNC machine. These are also maintenance free, except for chain greasing.
Billet Feeders
Our vertical billet feeders can be used for shaft type components. 200-300 components can be loaded into the hopper. The chain type feeder picks up one component at a time and delivers to the pick point, A robot or gantry system can be used to pick and place components to a CNC machine or forging press. These feeders can deliver a component every 2-3 seconds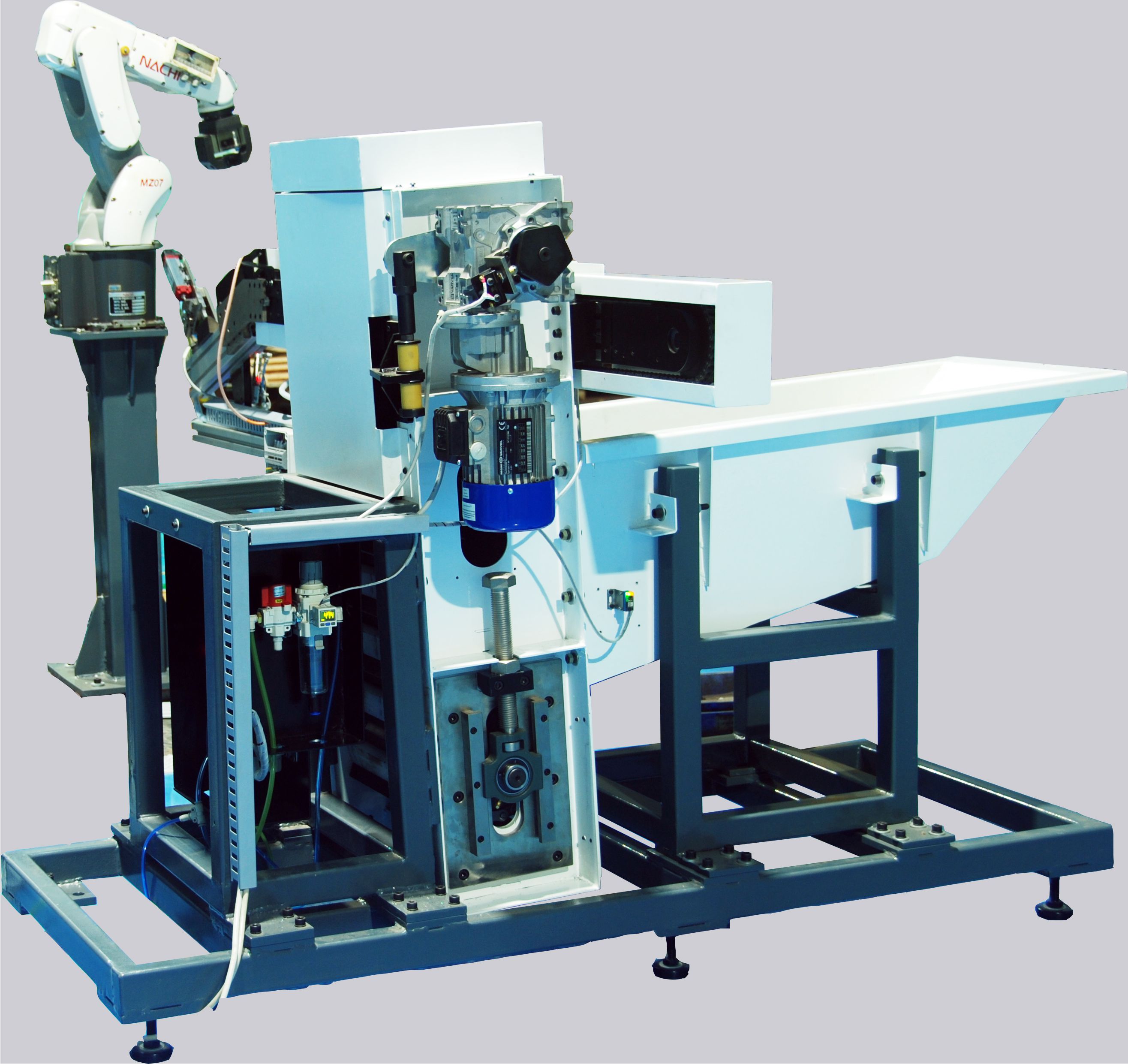 Step/Elevator feeders
For small cylindrical components that cannot be fed using a vibratory feeder (due to damage or noise concerns). Bulk components can be loaded into a hopper. These are suitable where the volumes are high and the feed rate is around 100 components per minute.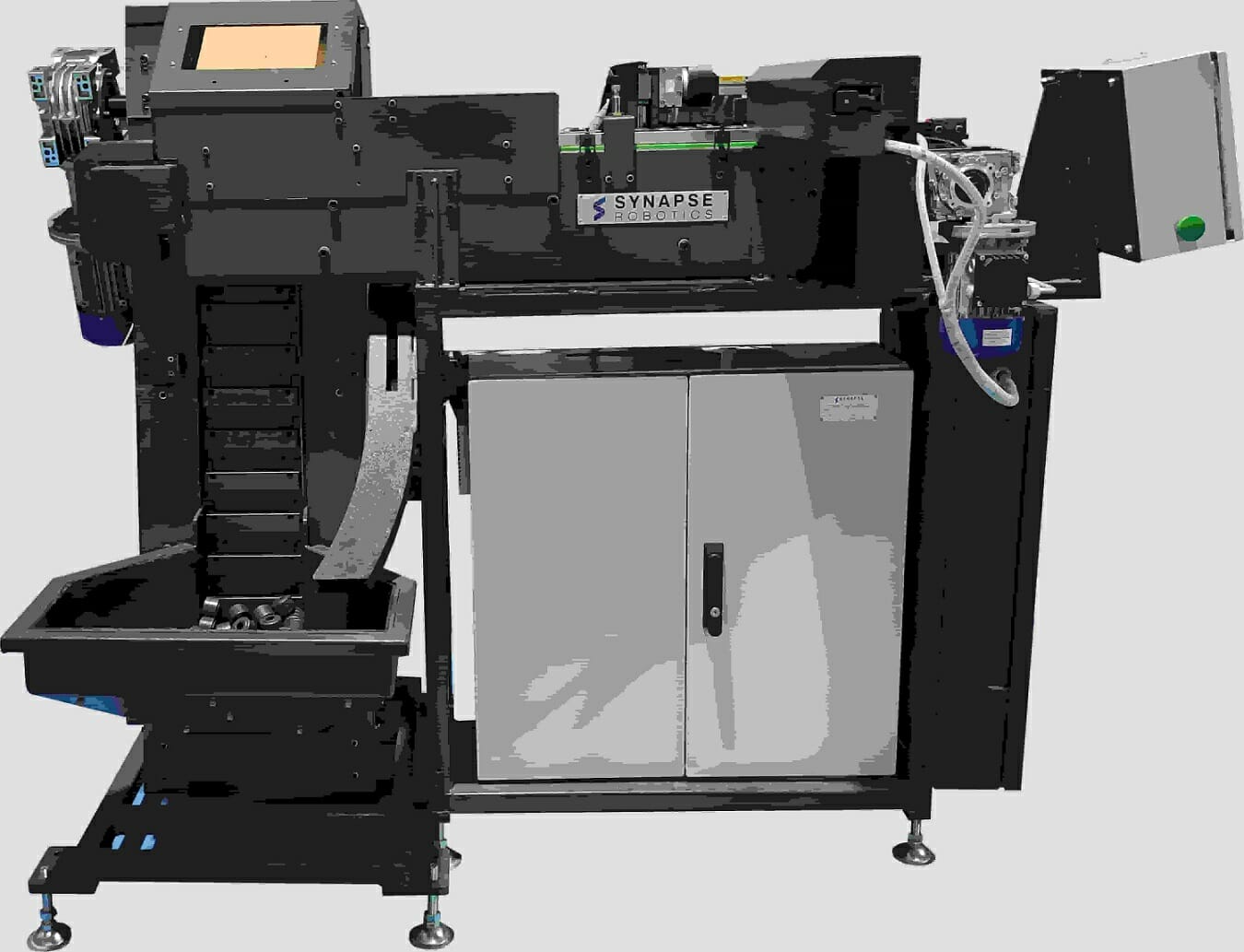 Plastic bin/Crate feeder
We have also developed a unique patented bin feed system for robotic cells. These gravity conveyors can be used to feed empty bins into robotic cells. The robot loads the machined components directly to the bins. Once the bin is full, it is delivered outside the cell, so that operators can safely pick up the bins and move it the next process. This also saves manpower as the task of picking up components from an out-feed conveyor and stacking to bins is avoided. This is a very simple and cost effective solution for robotic cells.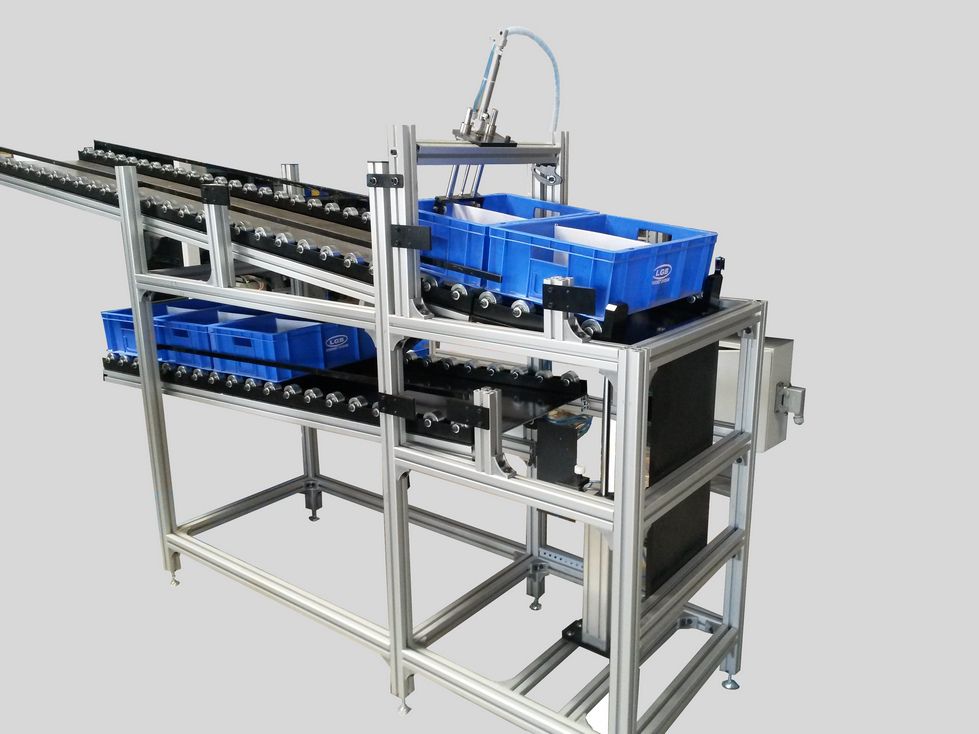 Belt conveyors
We manufacture high quality belt conveyors made of Al profiles. These conveyors can be customized to suit the component weight and material. Length width and height are all made suitable to customer requirements. The conveyors can be provided with simple start stop function or can have individual PLC control with built in sensors. They can be integrated with robotic cells and CNC machines for transfer of parts.
ASRS SYSTEMS & VENDING MACHINES
We provide ASRS solutions with integrated barcode & RFID systems. They can be used for variety of applications. One such application is the storage and retrieval of high value components which can be delivered in sequence for assembly operations. This will eliminate manual errors where the number of options is high and confusing for the operator.
Another application is pick and place systems to pick and deliver components for order fulfilment. A high numbers of SKU's can be stored and these systems can be built in modular fashion with provision for future expansion. The items can be stored in bins randomly and retrieved as per the order. For loose parts operators can pick up the components from the bin and place into boxes for shipping.
We have currently implemented ASRS systems in sophisticated food vending machines where bar coded food trays are randomly stored and retrieved using pick and place mechanisms. We use a combination of toothed belt drives, servos, steppers & DC motors to achieve high speeds and smooth transfer of trays.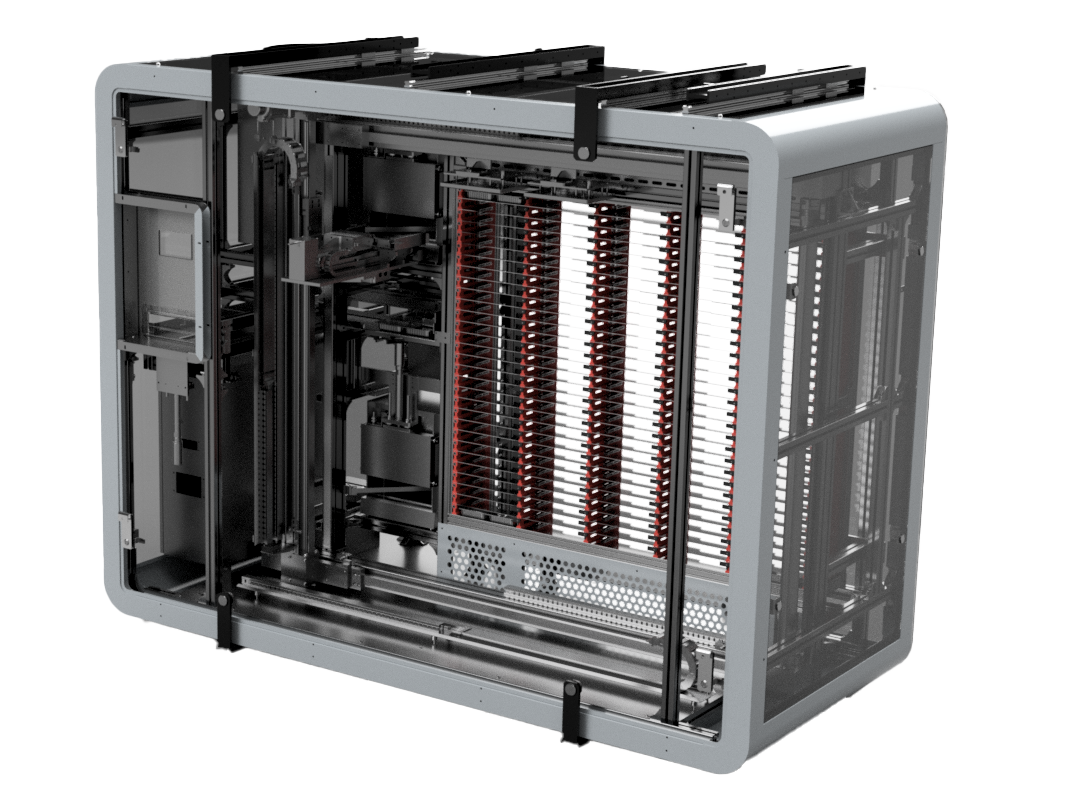 These systems can also be used in wholesale pharmacy distribution warehouses which fulfill the order requirements of local pharmacies. Boxes and medicine strips can be picked and placed according to the order. Using a combination of RFID and barcode systems, even the process of billing can be fully automated. This improves the accuracy of the order and reduces the dependency on labour. The system can also be run on multiple shifts with minimal maintenance staff to fulfil more orders with reduced warehouse space.
For these systems, the customized back end computer system remembers the location of each and every bin or tray. These locations are efficiently managed by the system depending on usage. The inventory is live and historical data becomes readily available for inventory optimization.